CORONAVIRUS CONSPIRACY
Boris Johnson Once Called Trump "Unfit" for the Presidency
Henry Makow@HenryMakow·8h

'In tears, a nurse says she quit her job after she was asked to work in a coronavirus ICU without a face mask'.

As it turns out, the nurse was an Instagram model who had not worked as a nurse for over a year.
"Depopulation should be the highest priority of US foreign policy towards the Third World."
Henry Kissinger - Global Research
"Kissinger called for making involuntary mass sterilizations and birth control a prerequisite for US aid to these countries, wanting hundreds of millions of people eliminated — including by withholding food aid to nations that don't control their population growth.
"In 1974, his classified National Security Study Memorandum (NSSM) 200 called for
a global depopulation "plan of action"
to prevent unwanted people from using raw materials and other resources wanted for profit-making so get rid of them."
Henry Kissinger - Global Research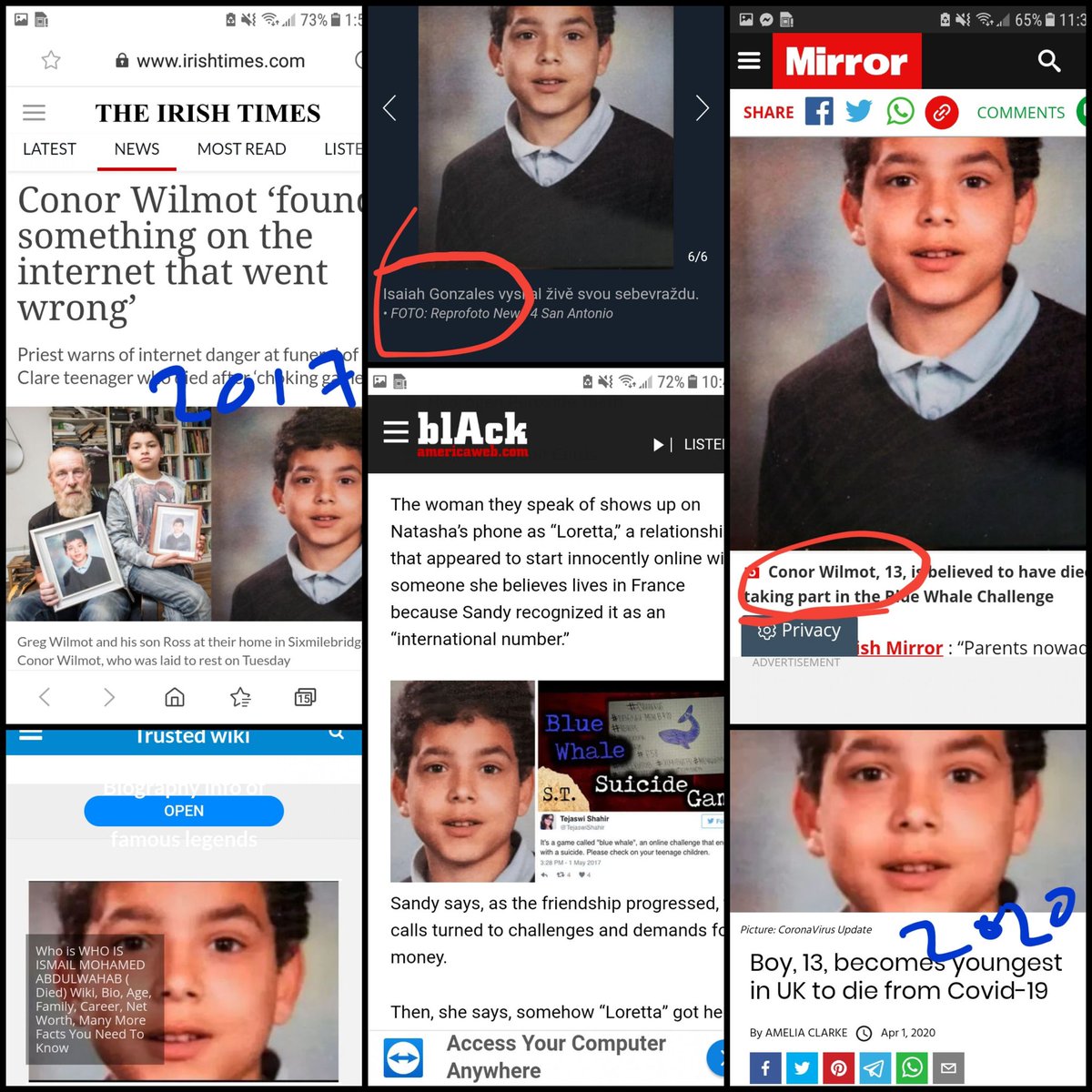 Thread by @TMV_Intel: 1 Boy with 3 different names Died 3 times

...
1 Boy with 3 different names
Died 3 different times
In 3 different Countries.
Boy 1
Conor Wilmot
Conor Wilmot 'found something on the internet that went wrong'Priest warns of internet danger at funeral of Clare teenager who died after 'choking game'https://www.irishtimes.com/news/social-affairs/conor-wilmot-found-something-on-the-internet-that-went-wrong-1.3085550?mode=amp
Boy 3
Isaiah Gonzales
Chlapec (†15) vysílal živě smrt na internetu. Stal se obětí Modré velryby, říkají rodičeVšichni na něj vzpomínají jako na dobrosrdečného a usměvavého chlapce. Isaiah Gonzales (†15) z texaského San Antonia se bohužel zapletl do nebezpečné internetové hry, při níž dotyčný musí plnit mnoho…https://www.blesk.cz/clanek/zpravy-krimi/481208/chlapec-15-vysilal-zive-smrt-na-internetu-stal-se-obeti-modre-velryby-rikaji-rodice.html
"MUMBAI : A 36-year-old man has been arrested in Mumbai for allegedly uploading a post on Facebook claiming the novel coronavirus outbreak was a government conspiracy."
....
Do not let yourself be misled by the fear campaign.
According to the WHO and John Hopkins Medicine, the risks of dying from ordinary influenza are higher than from COVID-19.
Ordinary flu can kill over 60,000 American in a year.
Source; John Hopkins Medicine
Vitor went into hospital with meningitis and died of meningitis.
Prof Michel Chossudovsky
writes the following about the
Fake Coronavirus Data and Fear Campaign.
The unspoken truth is that the novel coronavirus provides a pretext to
powerful financial interests and corrupt politicians
to trigger the entire World into a spiral of mass unemployment, bankruptcy, extreme poverty and despair.
This is the true picture of what is happening. "Planet Lockdown" is an encroachment on civil liberties. Entire national economies are in jeopardy. In some countries martial law has been declared.
Massive job losses and layoffs in the US, with more than
10 million workers filing claims for unemployment benefits
.
In India, a 21 days lockdown has triggered a wave of famine and despair affecting millions of homeless migrant workers all over the country.
No lockdown for the homeless: "too poor to afford a meal".
Conservative commentator Candace Owens has called for the resignation of Connecticut Gov. Ned Lamont after he lied about an infant dying from the coronavirus.
"The death of the infant in Connecticut had nothing to do with COVID-19. I know exactly how the infant died," Owens said in the video.
"I know this because people that were involved were mortified and angry, and they were so happy that I spoke out and called out this double-speak. "
Candace Owens accuses Connecticut governor of lying about infant's death

...
Prof Michel Chossudovsky
writes the following about the
Fake Coronavirus Data and Fear Campaign.
In many countries including the US, there is no precise lab test which will identify COVID-19 as the cause of a positive infection.
"Coronaviruses are everywhere". They are categorized as "the second leading cause of the common cold (after rhinoviruses)".
The COVID-19 belongs to the family of coronviruses which trigger colds and seasonal influenza.
COVID-19 is akin to seasonal influenza and pneumonia, categorized as contagious respiratory infections.
In 2009, the WHO launched the H1N1
Swine Flu Pandemic.
The WHO acknowledged that the underlying symptoms were moderate and that "most people will recover from swine flu within a week, just as they would from seasonal forms of influenza" (WHO statement, quoted in the Independent, August 22, 2009).

Many of those alleged to have died from Swine Flu may have died from other causes.

....
As noted in an
April 1 article in OffGuardian
, there may be dramatically more deaths from the economic breakdown than from COVID-19 itself.
"By all accounts, the impact of the response will be great, far-reaching, and long-lasting,"
Kevin Ryan wrote in the article.
Ryan estimated that well over two million people will likely die from the lock-downs and other drastic measures to enforce 'social distancing.'
Spooky Keir Starmer, is the new leader of the UK's Labour Party.
Henry Makow@HenryMakow 16h



New pro-Israel UK Labour leader wants "national vaccination" programme

- oy vey
....
"Sir" Keir Starmer was appointed to the Order of the Bath, whose members have included -
- President George H.W. Bush
- Robert Mugabe
-
Nicolae Ceausescu, Romanian dictator
Between 2016 and 2019 the Army took on 50 recruits with a reading age between five and seven years old.
"
It is a recognised pattern for dictatorship to commence with emergency measures designed to combat a threat.
"Those emergency measures then become normalised and people exercising arbitrary power find it addictive. A new threat is then found to justify the continuation."
Medical personnel in Wisconsin, Missouri, California, Florida, Colorado, Oregon, Georgia New Jersey, and every region in the USA are reporting there are few to no patients in their facility.
And the medical staff are being laid-off, or told to go home and/or stay home, because there is nothing to do.
theconservativetreehouse.com/2020/04/04/ground-reports

-
...
Maine's Franklin County Sheriff Scott Nichols has a strong message for the Governor of Maine, Janet Mills, who issued "stay-at-home" orders with threats of police punishment if not followed.
"
Sheriff Nichols issued a statement on the Franklin County Facebook page saying in no uncertain terms he will not follow the unconstitutional order.
"We will not be setting up a Police State. PERIOD," he wrote. "The Sheriff's Office will not purposefully go out and stop vehicles because they are on the road or stop and ask why people are out and about. To do so puts our officers at risk. This is not Nazi Germany or Soviet Russia where you are asked for your papers!"
...
Coronavirus: Exercise out of the home 'could be banned' if people flout rules
In the UK, exercise outside the home could be banned if people ignore coronavirus social distancing rules, the health secretary Matt Hancock has warned.
Matt Hancock tells sunbathers: 'Follow the rules or we'll ban outside exercise'
The UK government does not love nurses?
Are the usual deaths from pneumonia being rebranded as deaths from the mythical coronavirus?
Do the UK Conservatives love the National Health Service?
....
The Coronavirus scam is designed to promote fascism?
Dr. Stefano Montanari, an Italian nano-pathologist, says of Coronavirus (Covid19) -
(
The Coronavirus and Galileo | The Vineyard of the Saker
)
Healthy people suffer absolutely no damage from this virus.
The virus is found everywhere in the billions, like billions of other viruses.
Therefore I am convinced that, if we sought the virus in the 60-million Italians, we would find it at least in 30 million and probably more.
As I said,
this virus is found everywhere and it stays there without absolutely causing any harm, just like the enormous number of other viruses, present but harmless.
Mortality from the virus is very low and probably non-existent.
Park in Lambeth in London, 4 April 2020.
Dr. Stefano Montanari, a nano-pathologist, says of Coronavirus (Covid19) -
If someone is run over by a train, the ensuing trauma is the cause of death. If he who is run over by a train happens also to have a cold, the cold is not the cause of death. He casually happened to have a cold.
I am convinced that if all deaths were checked – about 650,000 people die in Italy physiologically every year – you would find more than half having the coronavirus, probably many more than half. For they are old people who have this coronavirus in their body. The omnipresence of the coronavirus type and other coronaviruses is a fact, not a hypothesis.
All these coffins are part of the 650,000 deaths we have every year in Italy – there is no increase in mortality.
Professor Stefano Montanari (left)
Dr. Stefano Montanari, a nano-pathologist, says of Coronavirus (Covid19) -
You can't vaccinate against the common cold because the common cold does not give immunity.
In the course of a life, a person can have a cold 200 times, and at no time that cold will give immunity (against the next).
It is a colossal fraud. We are close to 8 billion people forced to be vaccinated and it will be an unimaginably enormous business.
Dr. Stefano Montanari, an Italian nano-pathologist, says of Coronavirus (Covid19) -
People should be told to stay outside
in the sun, to walk, to move around, to try staying healthy and eat healthily. Not to stay indoor, in the dark and without sun.
In Italy, we have 49,000 deaths per year due to infections contracted in the hospital.
The data is official.
49,000 people, (130-140 people per day) die because they are admitted into a hospital, say, for an appendicitis and then they die of pneumonia
The governor of the region of Lombardy was recently condemned to six years in jail for stealing funds (in the hundreds of millions) destined to health care.
The owners of the ExCeL centre in east London are charging the National Health Service millions of pounds in rent to use it as a temporary hospital for coronavirus patients.
The ExCeL, owned by the Abu Dhabi National Exhibitions Company (Adnec), is charging the health service £2m-£3m a month, according to industry sources.
.
Scotland's chief medical officer (CMO) has been photographed visiting her family's second home in Fife during the
coronavirus
pandemic, despite herself issuing advice to stay at home.
Photos of Dr Catherine Calderwood and her family near a coastal retreat in Earlsferry were published in The Scottish Sun late on Saturday.
......
UK hospitals - October 2019 - March 2020
UK hospitals have been closing beds because of a drop in demand.
Statistics from around 50 UK hospitals show the number of emergency visits fell 43 per cent - from 104,251 to just 58,447 - in the last week of March compared to the first.
.....
Who is pulling the strings?
Maxwell Knight, the model for James Bond's boss M, served as Director of Intelligence of the British Fascists from 1924 to 1927.
Maxwell-Knight became Deputy Chief of Staff of the British Fascists before being recruited by MI5 in 1931.
...
Kevin Smith, the founder and investment chief of Crescat Capital,
revealed in an investor letter
that the group's macro fund posted a
40.5% gain
between February 20 and March 20.
Another Crescat fund delivered a
34.3% gain
over the same period, while the S&P 500 plunged by almost a third.
A death from Coronavirus?
Official US Centre for Disease Control instructions for labelling a death as a Coronavirus death:
Any death where the Coronavirus disease is ASSUMED to have CONTRIBUTED (however SLIGHTLY) to death.
Confirmed lab tests are NOT required
Anonymous

3 April 2020 at 13:37
"
In Austria, it counts as a corona death if you are allegedly infected with the virus but die of something else.
"According to Rudi Anschober and Bernhard Benka, members of the Corona Task Force in the Ministry of Health: 'Died with the corona virus or died from the corona virus both count as died from the Coronavirus.'
"In other words, a 90-year-old man who dies with a fracture of the neck and becomes allegedly infected with corona in the hours prior to his death is also counted as corona death."
Another Coronavirus death?
Peter Andrews, science journalist and writer, writes -
"I looked at the British government's
own statistics
on total deaths registered weekly across the UK.
"It shows that in
the week ending on the 8th of March 2019,
10,898
people died in total in the UK.
"This year, in the week ending the 6th of March 2020, the equivalent figure was almost identical:
10,895
."
Covid-19
Candace Owens@RealCandaceO
·
28 Mar
"An article this morning claims
NYC is facing a catastrophe because they have had 450 Coronavirus deaths since January and someone is dying every 17 minutes.
So you know -
regularly, NYC has 419 deaths every single day and loses a person every 9 minutes.
Peter Hitchens
- "The old USSR would have loved to have a population like the current western world which actually genuinely believe the propaganda and does what it's told."
100,000 people starve to death each day.
13 year old Ismail died in mysterious circumstances.
Lambeth - home to the MI6 HQ and various gay clubs.
Ismael, from Brixton in Lambeth in London, entered hospital on 27 March 2020.
He died on 30 March 2020 'of a cardiac arrest'.
No post-mortem

examination will be carried out on

13-year-old Ismail

Mohamed Abdulwahab who died allegedly after contracting coronavirus.
'Ismael's family cannot attend the funeral
after being forced into isolation.
BRIXTON is in Lambeth
Ismail Mohamed Abdulwahab, from Brixton, in
LAMBETH
, south London, died alone at London's King's College Hospital in the early hours of 30 March 2020.
Family friend Mark Stephenson set up an appeal on GoFundMe.
Ismail will be taken straight to the cemetery from a mortuary in south London.
The relative, who does not want to be named, said: 'I have spoken with his mother Sadiya.
Mark Stephenson, college director at the Madinah College where Ismail's sister works, set up the
GoFundMe
page to raise money for funeral costs and for the family, who also lost Ismail's father to cancer.
More than £67,000 has been raised.
"In November 1997 the South London Press reported the finding of
a sex dungeon
complete with manacles, chains, bedding and a sleazy red light in
Lambeth
High-Security Police Head Quarters
in South London.
"The civilian staff who leaked the story were suspended...
"From the copious amounts of child pornography found at the Police Station, it was soon realised that Children from Lambeth Care Homes were being taken to the Police Station for sexual abuse, rape and use in child pornography.
"It is believed several senior Police Officers were renting out Children and using the Police Station as a brothel...
13 YEAR OLD ISMAEL - CORONAVIRUS; MURDERS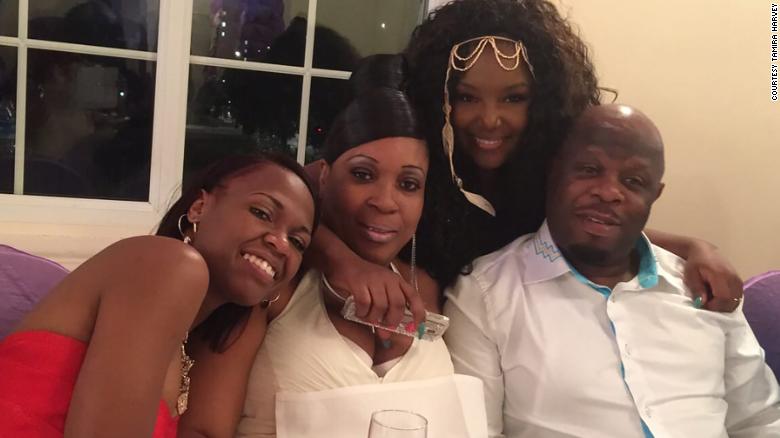 UK hospital worker
Thomas Harvey
(right) died on March 29, 2020.
He died of a heart attack, at home.
The death has been labled as a Coronavirus Covid-19 death.
Thomas Harvey never got a test for
Covid-19
before he died.
He collapsed in his bathroom
The NHS trust responsible for the hospital where Thomas worked told CNN that there were no Coronavirus patients when Thomas Harvey went off work sick.
When Harvey collapsed in the bathroom at this home in Hackney, London on March 29, family members had to use an ax to break down the door to reach him.
Nurse
Aimee O'Rourke
died at the
Queen Elizabeth The Queen Mother Hospital (QEQM)
in Margate, Kent, where she worked.
Aimee O'Rourke
21 October 2016
·
It is unclear whether or not she had any underlying health conditions (such as cancer) before allegedly contracting coronavirus.
On average, flu season lasts about 13 weeks. It will usually end by April, but in some years it can linger into May.
Anonymous 3 April 2020 at 03:08 writes -
I happened to be in Tesco Hyperstore at Edinburgh yesterday and decided to speak to a supervisor at the checkouts.
I asked her "as you and your colleagues are absolutely front line in this fiasco, how many staff have been hospitalised as a result?"
She answered rather enthusiastically
"actually across the whole company, only 1".
Army reserves have been called up. Moved from standby to standto.

I imagine we will be arriving at stage 4 now.
The size and scale of their Project Apocalypse and its pace clearly indicates that government is not the bumbling 'lessons will be learnt' apologists that they pretend.
"Economists at the Federal Reserve Bank of St. Louis projected Monday that job losses from the coronavirus recession would reach 47 million and push America's unemployment rate to 32.1 percent - more than 7 points higher than its Great Depression–era peak."
'There have been NO proven Coronavirus Covid-19 infections while shopping or at the hairdressers.'
Prof Hendrik Streeck, director of the Institute of Virology at the University Hospital in Bonnhas, said Covid-19 might not be as people believe.
Research conducted by Prof Streeck showed that the home of one infected family did not have 'any live virus on any surface'.
...
The mainstream media is spouting propaganda?
...
The propaganda will get the masses to support the New World Order?
Henry Makow@HenryMakow·17h

Are the Illuminati going to buy the whole world at fire sale prices?
This reminds me of the time they bought England by pretending Napoleon won the battle of Waterloo.
Poverty
1.8 million people die
every year from diarrhoeal diseases; 90% are children under 5.
Peter Hitchens@ClarkeMicah·23h

Shock news ! 1,600 people die every day in the United Kingdom. This is normal.
BILL GATES CALLS FOR A "DIGITAL CERTIFICATE"

TO IDENTIFY WHO RECEIVED COVID-19 VACCINE
Richie Allen@RichieAllenShow·16h

Ridiculous headline throws real doubt on the covid-19 death toll. "Comedian Eddie Large dies from coronavirus as he was being treated in hospital for heart failure!" Think about it...
"
University of Washington professor Carl Bergstrom
, an infectious disease specialist, chased down a
viral Twitter thread
in which neurologist Scott Mintzer at Thomas Jefferson University in Philadelphia described Iintensive Care Units in Seattle, 2,800 miles away, flooded with dying patients.
"It included a claim that doctors were withholding life-saving equipment from overweight patients.
"Bergstrom reached out to Seattle health care workers to check on the claims and received messages refuting them."
The Professors Who Call 'Bullshit' on Covid-19 Misinformation ...
www.wired.com
This is said to be Bormann in Bolivia.
Guide To The Apocalypse @Greasy97597537·2 Apr

Bormann was the money manager who made Hitler rich. Bormann organised the first meeting of what would later be known as the Bilderburg Group. Research RED HOUSE MEETING 10th August Strasbourg.
Henry Makow@HenryMakow
"All over the United States habitual criminals are being released from jail's & prisons. They will add much to the coming civil unrest, violence and war."
Labels: Bergstrom, Ceausescu, fake, false flag, Gates, hoax, India, Ismail, Italy, Kissinger, Large, Montanari, Nichols, nurse, NWO, O'Rourke, Owens, Starmer, Streeck, vaccines