Former Supreme Court Judge Lord Sumption
Former Supreme Court Judge Lord Sumption says:
We see the actions of a police state
"[The] real question is: Is this serious enough to warrant
putting most of our population into house imprisonment,
wrecking our economy for an indefinite period
, destroying businesses that honest and hardworking people have taken years to build up,
saddling future generations with debt
, depression, stress, heart attacks, suicides and unbelievable distress ...
The MI5 officer who led the investigation into 'the poisoning' of the Skripals has been appointed the new head of MI5.
Lord Sumption says:
"I have to say that the behaviour of the Derbyshire police in trying to shame people into using their undoubted right to take exercise in the country and wrecking beauty spots in the Fells so that people don't want to go there, is frankly disgraceful.
"This is what a police state is like.
"It's a state in which the government can issue orders or express preferences with no legal authority and the police will enforce ministers' wishes ...
British High Society Fell in Love With the Nazis

Lord Sumption says:

"[It] is the right and duty of every citizen to look and see what the scientists have said and to analyse it for themselves and to draw common sense conclusions ...

"We all have critical faculties and it's rather important, in a moment of national panic, that we should maintain them."

-- Lord Sumption, a former member of the Supreme Court, on BBC Radio 4's World at One today, Monday 30th March 2020

https://hitchensblog.mailonsunday.co.uk/2020/03/lord-sumption-speaks-against-hysteria-driven-government-policy-.html
Above, we see emergency workers carrying out a drill .
10 MORE Experts Criticising the Coronavirus Panic
Dr. Sunetra Gupta et al. are an Oxford-based research team.
What they
say
:
The results we present here suggest the ongoing epidemics in the UK and Italy started at least a month before the first reported death and have already led to
the accumulation of significant levels of herd immunity in both countries.
"Coronavirus may have infected half the population", Financial Times, 24th March 2020
Dr Karin Mölling is a German virologist.
What she
says
:
This winter, the flu is not severe, but around 80,000 are infected.
Every week a person dies in Berlin from multi-resistant germs.
That adds up to 35,000 a year in Germany. This is not mentioned at all.
The 2018 influenza epidemic, with 25,000 deaths, never disconcerted the press.
Dr Anders Tegnell is a Swedish physician who has been State Epidemiologist of the Public Health Agency of Sweden since 2013.
What he
says
:
Older people or people with previous health problems should be isolated as much as possible.
Anyone with symptoms should stay at home immediately.
"If you follow these two rules,
you don't need any further measures, the effect of which is only very marginal anyway,"
Dr Pablo Goldschmidt is an Argentine-French virologist.
What he
says
:
The coronavirus identified in China in 2019 caused nothing more than a strong cold or flu.
Each year there are 3 million newborns who die in the world of pneumonia and 50,000 adults in the United States from the same cause.
He died of meningitis
Dr Eran Bendavid and Dr Jay Bhattacharya are professors of medicine and public health at Stanford University.
What they
say
:
A universal quarantine may not be worth the costs it imposes on the economy, community and individual mental and physical health.
Dr Tom Jefferson is a British epidemiologist.
What he
says
:
There does not seem to be anything special about this particular epidemic of influenza-like illness.
Dr Michael Levitt is Professor of biochemistry at Stanford University.
What he
says
:
I don't believe the numbers in Israel ... because the definition of a case in Israel keeps changing and it's hard to evaluate the numbers that way…
To put things in proportion, the number of deaths of coronavirus in Italy is 10% of the number of deaths of influenza in that country between 2016-2017.
–
"Why this Nobel laureate predicts a quicker coronavirus recovery: 'We're going to be fine'"
, Los Angeles Times, 22nd March 2020
German Network for Evidence-Based Medicine is an association of German scientists, researchers and medical professionals.
What they say:
In the majority of cases, COVID-19 takes the form of a mild cold or is even symptom-free.
An overestimation of the death rate occurs when a deceased person is found to have been infected with the Coronavirus covid-19, but this was not the cause of death.
A Cochrane Review from 2011 found no robust evidence for the effectiveness of border control screenings or social distancing.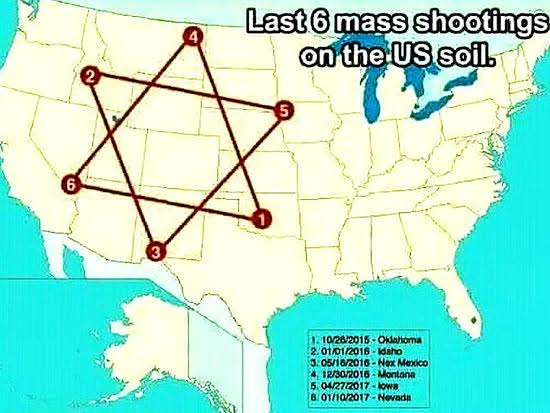 Dr Richard Schabas is the former Chief Medical Officer of Ontario.
What he
says
:
Many cases have no symptoms – the vast majority mild symptoms.
Quarantine belongs back in the Middle Ages.
Save your masks for robbing banks.
10 MORE Experts Criticising the Coronavirus Panic
In
Italy
the mafias are doing well out of the Coronavirus false flag.
Mafias set to profit from Italy's coronavirus devastation - The Local
'Just look at the portfolio of the mafias, to see how much they can earn from this pandemic,' Italian anti-mafia author Roberto Saviano said in an interview in the Repubblica daily.
The mafias are invested in cleaning, disinfection, waste recycling, transportation, funeral homes, oil and food distribution.
'The mafias know what you have, and will need, and they give it, and will give it, on their own terms.'
Saviano pointed to a Cholera outbreak in Naples.
The government paid out vast sums - which went straight into the pockets of the Camorra Mafia.
Giuseppe Pignatone, a former mafia-hunter, said the epidemic would 'inevitably make the judiciary's job more difficult over the coming weeks and years'.
The trials of hundreds of defendants have halted.
The redirection of police resources over the crisis could also help the mafia.
According to the Stampa daily, Italy's secret service has warned the government of potential riots in southern Italy - organised by the Mafias.
Some Mafia gangsters have already been let out of prison.
...
14 year old Vitor Godinho
from Portugal died in March 2020.
It is claimed that he died from the Coronavirus.
In fact,
Vitor Godinho had meningitis.
The Impala News Portal found that Vitor Godinho was admitted to Hospital da Feira with meningitis.
story here
"The clinical condition of Vitor Godinho was particularly serious due to various diseases which he had."
Vitor Godinho, o jovem jogador de futsal que morreu hoje

...
"In a press conference, the DGS stressed that Vitor Godinho had "other associated diseases".
DeplorableCAnonTrain@acannon12· 8h
"
The left picture is supposedly in NYC and the right picture is in Italy
!
"How could the same patient be in 2 different places, at the same time, and in the exact same pose?"
...
Police felt the need to warn Stephen that wishing his dad happy birthday did not count as essential travel but Kinnock replied that he was also delivering necessary supplies.
Brabantian
29 March 2020 at 13:23
writes -
One of the greatest tragedies here is the overnight shut-down and destruction of economies in the developing world, where many people have little or no economic safety net other than family or friends
It is a catastrophe in Indonesia.
Providers of Indonesian families suddenly have no job nor income, staring into the abyss as they wonder how to fund food and rent just days from now
Meanwhile, cash-rich Indonesian and Chinese elites and others, can buy property and assets from the desperate at bargain prices
...
Thomas Schaefer, the finance minister of Germany's Hesse state,
has committed suicide apparently after becoming "deeply worried" over how to cope with the economic fallout from the coronavirus, state premier Volker Bouffier said Sunday.
Schaefer, 54, was found dead near a railway track on Saturday. The Wiesbaden prosecution's office said they believe he died by suicide.
Thomas Schaefer
Hesse is home to Germany's financial capital Frankfurt, where major lenders like Deutsche Bank and Commerzbank have their headquarters. The European Central Bank is also located in Frankfurt.
...
Joe Biden takes massive 25-point lead against Donald Trump in battleground counties

as a new poll shows the former VP ahead of the president in areas hotly contested in 2016
....
...
...
Subtitles.
...
A German hospital.
Why no big jump in hospital attendances and death rates?
EURO MOMO
- European monitoring of excess mortality for public health action.
Weekly mortality as deviations from the baseline (
Z-score
) for the past 4½ years.
Nurses and loved ones report that old people are
being manipulated to sign do not resuscitate (DNR) forms amid fake 'virus pandemic' to allow them to die
The UK prime minister's chief adviser Dominic Cummings (above) wrote -
The most secure bio-labs routinely make errors
MARCH 4, 2019
"The most secure bio-labs routinely make errors that could cause a global pandemic & are about to re-start experiments on pathogens engineered to make them mammalian-airborne-transmissible
A hypothesis that should be tested: With
a) <£1million to play with,
b) the ability to recruit a team from among special forces/intel services/specialist criminals/whoever, and
c) no rules (so for example they could deploy honey traps on the head of security), a Red Team would break into the most secure UK bio-research facilities and acquire material that could be released publicly in order to cause deaths on the scale of millions."
Sky News UK
had honest corona virus report.
The started with
the average number of UK people that die every day
at over 1000.

Then they explained that over eighty percent of those that die with corona virus had preexisting conditions and would have died anyway.
They showed the projected extra deaths just due corona virus were comparable with extra deaths due to average year flue deaths.

Then it showed the large number of deaths due to austerity.
Making the point that deaths from future austerity as a result of shutdown could far out way deaths from corona virus.
- Anonymous
28 March 2020 at 10:07
...
"Military Order No. 1 let Bush/Cheney capture, kidnap, arrest, indefinitely detain, or eliminate virtually anyone anywhere."
"A
fake
patient on a trolley." It's a drill.
Inside new coronavirus hospital
PETER HITCHENS writes about this foolish Great Panic
-

"Distinguished scientists at Oxford University, led by the Professor of theoretical epidemiology, suggest that fewer than one in a thousand of those infected with Covid-19 become ill enough to need hospital treatment.

"The vast majority develop very mild symptoms or none at all.

"Millions may already have had it.
.....
PETER HITCHENS writes about this foolish Great Panic
-
"Those who began by claiming that we faced half a million deaths from the coronavirus in this country have now greatly lowered their estimate.
"
Professor Neil Ferguson
was one of those largely responsible for the original panic.
"He has twice revised his terrifying prophecy, first to fewer than 20,000 and then on Friday to 5,700.
"He says intensive care units will probably cope.
"And he conceded a point made by critics of the panic policy – that
two-thirds of people who die from coronavirus in the next nine months would most likely have died this year from other causes."
...
PETER HITCHENS writes about this foolish Great Panic
-
"Prof Sucharit Bhakdi, an infectious medicine specialist, warned: 'Our elderly citizens have every right to make efforts not to belong to the 2,200 in Germany who daily embark on their last journey.
"'Social contacts and social events, theatre and music, travel and holiday recreation, sports and hobbies all help to prolong their stay on Earth.
"The life expectancy of millions is being shortened.'"
Isaac Levido invented the slogan: Stay at Home, Protect the NHS, Save Lives.
PETER HITCHENS writes about this foolish Great Panic
-
"Prof Sucharit Bhakdi also gave this warning: 'The horrifying impact on the world economy threatens the existence of countless people.

"'The consequences for medical care are profound. Already services to patients who are in need are reduced, operations cancelled, practices empty, hospital personnel dwindling.
PETER HITCHENS writes about this foolish Great Panic
-
""John Lee, a recently retired professor of pathology and a former NHS consultant pathologist, writes in The Spectator this weekend that by making Covid-19 a notifiable disease, the authorities may have distorted the figures.
"'In the current climate, anyone with a positive test for Covid-19 will certainly be known to clinical staff looking after them: if any of these patients dies, staff will have to record the Covid-19 designation on the death certificate – contrary to usual practice for most infections of this kind.
"'There is a big difference between Covid-19 causing death, and Covid-19 being found in someone who died of other causes'.
A hospital in Madrid, March 2020.
"This, of course, explains why such an overwhelming number of Covid deaths, here and abroad, involve so-called 'underlying conditions', in fact serious, often fatal, diseases.
"Dr Lee adds, equally crucially: 'We risk being convinced that we have averted something that was never really going to be as severe as we feared.'"
....
'CORONAVIRUS FALSE FLAG'
This comment goes against our Community Standards on spam
No one else can see your comment.
Adam Sullivan
28-year-old
Adam Sullivan
died after contracting pneumonia and being put into an induced coma.
But the death is labled by some newspapers as a suspected coronavirus death.
'There is a big difference between Covid-19 causing death, and Covid-19 being found in someone who died of other causes.'
Ordinary seasonal flu is a major killer.
The
WHO estimates
that between 290,000 and 650,000 respiratory deaths globally each year are associated with seasonal influenza.
The USA's Centers for Disease Control and Prevention (CDC)
publishes estimates of the number of flu cases annually
.
The number of cases has ranged from nine million to 45 million a year, and the number of deaths ranged from 12,000 to 61,000.
Public Health England
estimates that on average 17,000 people have died from the flu in England annually between 2014/15 and 2018/19.
The yearly deaths vary widely - with a high of 28,330 in 2014/15