WESTMINSTER BRIDGE ATTACK 2017 - PART 2
LONDON ATTACK - FALSE FLAG - PART 2
The man at the window looks like

Adrian Elms

,
aka
Khalid Masood
, who allegedly carried out the Westminster Bridge attack on 22 March 2017.
Adrian Elms on the left, man at the window on the right.
Adrian Elms on the left, man at the window on the right.
Who might Adrian Elms be working for?
.
Nicholas Young
Nicholas Young, of Fairfax Virginia, was raised a Catholic.
He has been described as being quiet and kind.
He is the son of a teacher.

He became a Washington DC transit police officer.
He is alleged to have become a Nazi sympathiser.
In 2011, Young had several meetings with an undercover law enforcement officer.
It has been claimed that Young traveled to Libya to fight against Muammar Gaddafi.
In 2016, the FBI accused Young of supporting and aiding ISIS.
Prosecutors Allege Dubious ISIS-Nazi Connection in Terror Sting
/
Nicholas Young
Adrian Elms, the alleged London Attacker, has been described by neighbours and friends as being a friendly, normal guy.
In his school football kit: 'London terror attacker' Adrian
One of the people in the London Attack vehicle was described as being a bald white man.
Victims of the 22 March 2017 London Attack were taken to a Marriott hotel.
Marriott hotels have been involved in lots of terrorist incidents.
.
The day before the London Attack,
Andreea Cristea
was at Westminster Bridge, at the exact spot 'where she jumped' on the day of the attack.
dailymail.
.....
Why did Andreea Cristea appear to jump
after
the car passed her?
dailymail.
Above, we see "Andreea Cristea being rescued from the Thames."
Why was there a practice terror drill on the Thames in London a few days before the 22 March 2017 attack?
Armed police stage anti-terrorist drill on Thames on 19 March 2017
Andreea.
Andreea, from Romania, does a spookily large amount of travelling.
Smiling snaps of Romanian woman
Andreea.
Andreea.
How fishy is the Thames?
.
Adrian Elms, aka Khalid Choudry, aka Khalid Masood.
The alleged London Attacker Adrian Elms made three trips to Saudi Arabia.
The Saudi embassy said he taught English in Saudi Arabia from November 2005 to November 2006 and again from April 2008 to April 2009, with
legitimate work visas
both times.
London attacker had worked in Saudi Arabia teaching English
Adrian Elms supposedly had a long criminal record, was known to MI5, and was twice in prison prior to 2005.
So, how was he able to get a teaching job in Saudi Arabia?
The suspicion is that Adrian Elms works for MI5 and its friends, and is still alive.
....
The above video relates that the governments of the UK and its allies have carried out acts of terrorism.
.
Kurt Cochran and wife Melissa.
Kurt Cochran
, 54, from Utah, was one of three pedestrians who reportedly 'died after being hit by a car ... on Westminster Bridge'.
"Kurt Cochran and his wife Melissa ... had been visiting Melissa's parents, who work on a
Mormon
(Church of Jesus Christ of Latter-day Saints) mission."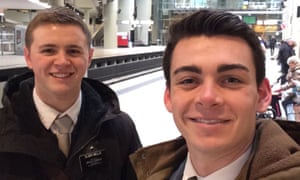 Mormons Mason Wells, 19, and Joseph Empey, 20, were at Zaventem airport in Brussels.
Mason Wells
is a
Mormon
who was involved in 3 terror attacks -
the Boston Marathon Attack, the Paris Attack and the Brussels attack.
Mormon who survived three terror attacks
.
Four Mormon missionaries were present during the
false flag terrorist attack that occurred in Brussels on 22 March 2016
, and documented their
journey on a blog
.
Mason Wells was in Paris during the 2015 Paris false flag attacks and he was a block away from the finish line of the 2013 Boston Marathon during the Boston false flag bombings.
dailymail.
OpEdNews has reported on the

Mormon-Mossad-CIA Connection
:
"The first public awareness of the nexus between Mossad and Mormon secret agents was published by Norman Mailer in A Harlot High and Low in the 60's.."
According to an article at
Scoop (Bush And The Mormons)
, Mormons have had 'a disproportionate representation in the CIA and FBI through the years, and J. Edgar Hoover started the FBI with Mormon agents'.
BRUSSELS; MOSSAD CIA FALSE FLAG INSIDE-JOBS; GLADIO

.
Jonathan Ellwood was reportedly killed in the Bali Bombing.
Since the time when Obama lived in Jakarta, American trained Indonesian generals having been pulling the strings in Indonesia.
The forerunner of al Qaeda, which was founded around 1988, could be said to be Indonesia's
Komando Jihad
, which was founded around 1968.
According to Kingsbury,
Komando Jihad
, which became Jemaah Islamiah, was set up by the American-trained generals.
'Bali bomb mastermind' Al-Farouq
'Bali bomb mastermind' Al-Farouq was handed over to the Americans who 'allowed him to escape'.
Former Indonesian spy (BAKIN) chief A.C. Manulang was quoted by Tempo magazine as suggesting that the Bali bomb mastermind Al-Farouq was a CIA agent.
Dr Kingsbury wrote: "
Kopassus
(Indonesian special forces)... set up the Islamic organisation Komando Jihad that hijacked the plane in 1981 and which has since emerged as Jemaah Islamiah."
Kopassus works closely with
Mossad.
London False Flag Hoax
Some people wonder if there is any video footage of the bald white man who was seen by witnesses in the attack vehicle.
.
Waleed Al Shehri
There is a belief that many of the people allegedly killed in terror attacks are still alive.
BBC NEWS | Middle East | Hijack suspects alive and well
In 2001, the BBC reported: "Saudi Arabian pilot
Waleed Al Shehri
was one of five men that the FBI said had deliberately crashed American Airlines flight 11 into the World Trade Centre on 11 September.
"Now he is protesting his innocence from Casablanca, Morocco.
"He told journalists there that he had nothing to do with the attacks on New York and Washington, and had been in Morocco when they happened."
Abdulaziz Al Omari
Alleged hijacker Abdelaziz Al Omari is still alive.
7 of the alleged hijackers are still alive.
The London Attack looks as fake as 9 11.
The security services like to trick people.
Nicki Minaj
made a Westminster Bridge scene
just days before the 22 March London attack
.
(Butterflies are used in mind control)
Was this filming (above) some kind of preparation for the attack?
Adrian Elms's daughter Teegan.
The London Attacker is said to be Adrian Elms (aka Khalid Masood)
Adrian's daughter Teegan attended a £15,000-a-year private school,
Claremont School, in St Leonards-on-Sea.
dailymail.
.
Trevor Brooks
.
Alleged London Attacker
'Adrian Elms'
Is the alleged London Attacker Trevor Brooks or Adrian Elms?
Channel 4 News originally announced that Trevor Brooks was the London Attacker.
The police then declared that Adrian Elms was the sole London Attacker.
Trevor Brooks
Alleged London Attacker
'Adrian Elms'
The security services like to use 'body doubles'.
In the Boston Marathon attack, Tamerlan Tsarnaev had a 'double'?
Above we see that the real Dylann Roof (left) appears to have no obvious moles on his face.
Above (right) we see what appears to be Dylann's body double, a person with obvious moles.
Reportedly, there was a Lee Harvey Oswald in New Orleans and at the same time as there was a Lee Harvey Oswald in Japan.
posted by Anon @ 09:47 1 Comments