DE ROTHSCHILD, GREAT NARRATIVE, BRAZIL, SEBOLD, INDIA, SLOVENIA, AFRICA, CAMBO, QATAR,
Leopold de Rothschild.
Britain's royals used obscure legal procedure to hide distant relatives' wills
(Updates below)
...
Great Narrative
'Speaking at the Great Narrative Meeting in Dubai, United Arab Emirates today, Schwab announced his intent to develop a great narrative that public and private entities will use to shape the future of humanity.'

WEF Founder Klaus Schwab calls for a 'great narrative' for humankind at meeting in Dubai

WEF's 'great narrative' blends tech, society, economy, politics & nature into story for humankind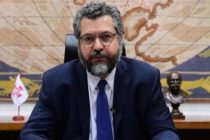 Brazil's minister of foreign affairs says "no" to the World Economic Forum's (WEF) proposed "great reset" agenda, telling the United Nations (UN) special session on COVID-19 that "totalitarian social control is not the remedy for any crisis."
Brazil says 'no' to great reset: 'Totalitarian social control is not the remedy for any crisis'
Innocent black man, 61, who spent 16 years in prison for raping author Alice Sebold after she wrongly identified him in court had no idea she made millions off the story while he lived 'in squalor'
After being acquitted.
...
India
CRISIS IN SLOVENIA
...
'Alex Salmond has compared Nicola Sturgeon's opposition to the Cambo oil field to Mrs Thatcher's abandonment of coal mining communities.
'The former First Minister also claimed the hostile stance could sink the case for independence and cost the
SNP
tens of thousands of votes.
'Sturgeon last week sharpened her opposition to
Cambo
, which if approved would see drilling for oil near Shetland.
"I don't think that Cambo should get the green light," she said during a Holyrood debate.
'Her scepticism on the grounds of climate change has sparked alarm among North East SNP politicians who worry an anti-Cambo stance will cost jobs and increase the reliance on fossil fuel imports.'
...
Solomon Is.
...
UN