...
What do you believe about Covid19 or Osama bin laden?
"In our large practice, not a single one of us has been diagnosed with Covid, despite our likely contact in the earlier days of the pandemic.
"We are told Covid rates are rising in our part of the country. But I have not encountered anyone actually 'unwell' with Covid – the few dozen that we did encounter were in March/April."
The Year the NHS Failed the People of Britain – Lockdown ...
lockdownsceptics.org › letter-from-a-gp
"No platform is going to be allowed to rise to the level of Facebook, Twitter or YouTube unless it aligns itself with the same power structures that are pushing censorship on those platforms. This is why attempts to compete with them keep failing.
"First the wealthy controlled the newspapers, then they controlled the radio, then they controlled television, now they control online speech."
How Did People Have Conversations Back Before

Donald J. Trump@realDonaldTrump
The World Health Organization just admitted that I was right. Lockdowns are killing countries all over the world. The cure cannot be worse than the problem itself.
Open up your states, Democrat governors. Open up New York. A long battle, but they finally did the right thing!
10:42 pm · 12 Oct 2020
·
Architect of the PCR test had no coronavirus ....
Neocon Jonah Goldberg
wrote:
"Every ten years or so, America needs to pick up a shitty little country in its net and throw it against the wall, just to show the world we're not kidding. "
Goldberg wrote:
"Has the invasion of Iraq caused instability in the region? Yes. But in this context, the instability is much more profitable for us".
chaos fabriqué.

The top quote comes from a piece written by Jonah Goldberg writing in the National Review but in the article he is actually quoting (supportively) the Neocon Zionist Michael Ledeen- stating that the remarks were made by Ledeen at an earlier speech
"Between March 18 and April 10, 2020, over 22 million people lost their jobs as the unemployment rate surged toward 15 percent.
"Over the same three weeks, U.S. billionaire wealth increased by $282 billion, an almost 10 percent gain.
https://ips-dc.org/billionaire-bonanza-2020/
"The politician of today is, by and large, a compliant puppet to the deep state whose agenda is totalitarian global dominance and mass depopulation.
https://www.globalresearch.ca/corona-crisis-humanitys-great-fight-back/5726355
"
The invisible Money Power
is working to control and enslave mankind.
"It
financed Communism, Fascism, Marxism, Zionism, Socialism.
"All of these are directed to making the United States a member of a World Government ..."
- AMERICAN MERCURY MAGAZINE, December 1957, pg. 92.
paloaltoonline.com
"In the hospital where I work, there isn't a single person currently being treated for covid.
"In fact, in the whole of Stockholm, a county with 2,4 million inhabitants, there are currently only 28 people being treated for covid in all the hospitals combined."
https://sebastianrushworth.com/2020/0...
....
"The 4th Industrial Revolution will change the kinds of jobs needed in industry."
"We're taking steps to cement our position as a world leader in ... 5G."
...
The highly-secretive
Joint Biosecurity Centre (JBC)
took over the UK's coronavirus response in July 2020.
Little is known about the JBC - which is headed by Dr Clare Gardiner, cybersecurity director at the UK spy service GCHQ
Exclusive: Calls to end secrecy of body driving UK's Covid lockdowns
In the UK, the Army will be drafted to Liverpool to help the city in its coronavirus efforts.
It is expected that large parts of Merseyside will be placed into Tier 3 lockdown on 14 October 2020, meaning pubs will close and movement will be restricted.
The Army will help provide logistics and capacity support, a statement from the city's leaders said.
Prof Michel Chossudovsky writes -
It is now confirmed beyond doubt that the test (PCR test) used to estimate COVID-19 positive cases is meaningless.
It cannot detect or identify the virus.
What it detects are particles or fragments of numerous viruses including the common cold.
PCR- Positive does not imply Covid-19 Positive.
The statistics derived from the PCR test do not measure "confirmed cases".
The PCR Test does not provide the statistics required (by policy-makers and national health authorities) to assess the number of people infected.
The Covid-19 Roadmap: Towards Global Economic Chaos and Societal Destruction
While these flawed official statistics used to "measure" the spread of the viral infection are meaningless, they have nonetheless been used to support the ongoing fear and disinformation campaign.
The PCR-test is the smoking gun. Why?
Because the PCR Test is faulty and invalid as a means of identifying the spread of the virus, which means that
ALL MAJOR DECISIONS taken by the WHO and national governments since late January 2020 (supported by faulty statistics) are invalid.
Moreover, official reports, including the WHO, confirm that Covid-19 is not a killer virus.
The Covid-19 Roadmap: Towards Global Economic Chaos and Societal Destruction
....
Henry Makow@HenryMakow
·
16h
This is not getting much attention -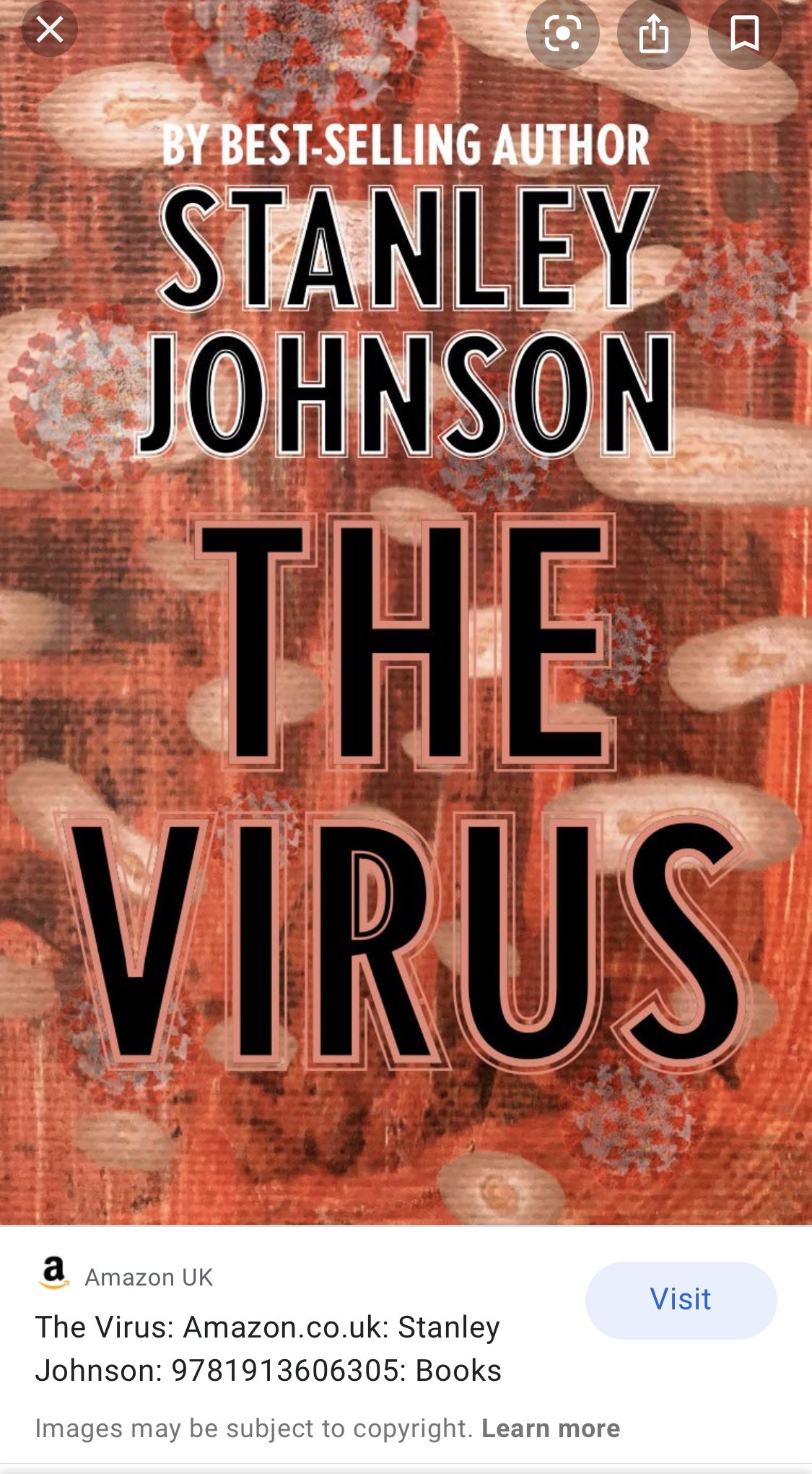 Right Said Fred@TheFreds
Boris's dad Stanley Johnson, wrote a book in 1982 about the rise of a mysterious virus and one man's fight to stop a deadly pandemic.
"Why then, when multiple children are harmed through bullying and violence at school, some to the point of suicide (currently the leading cause of death in young people,
according to the ONS
), will those MPs, official authorities and charities not act?"
Keir Starmer, leader of the UK's Labour Party.
Starmer backer Lauder took over from Edgar Bronfman at the WJC.
Bronfman, whose family members featured on Epstein's list and in the NIXVM affair, had close ties to Starmer's cheerleader Margaret Hodge and Greville Janner!
Former Labour Party MP Greville Janner.
What better place to start than that stalwart of the Labour Party, Greville Janner. When Simon Danczuk made his allegations against Janner in the HoC in 2015, it was the former DPP Keir Starmer who defended the decision not to charge Janner.
dailymail.co.uk/news/article-3
....

Professor Mark Crispin Miller is under attack for exposing the propaganda to convince us that masks are safe and effective against the Coronavirus.

He presented this evidence in his class on Propaganda at NYU, where he has taught since 1997 as a tenured professor. One student took offense and has launched a campaign to get Miller fired.
...
...
"The Government's biggest blunder is yet to come – the looming new lockdown that would cripple our economy, completely decimating some sectors, not only putting millions out of work but blighting the lives of a whole generation of school and university leavers who should now be starting their careers."
www.dailymail.co.uk › debate › article-8826759
...
Boris Johnson
has been threatened with legal action over his lockdown plans for the north of England as one of his own senior local Tories branded the scheme 'oppressive'.
....
"Ironic, when the actual defence of the realm is being dismantled in front of his eyes and with his tacit agreement. I never expected to witness my country of birth being taken-over by a government of occupation.
"
Powerful interests in the banking and corporate sector, tied-in with US and other international power brokers
,
have colluded with political leaders to usurp power
while other supposedly 'responsible parties' have resorted to an eerie and arrogant silence. A refusal to engage with humanity.
"Covid-19's arrival on the scene was not by chance, and the criminal imposition of a plethora of draconian rules and regulations concerning its supposed containment – accompanied by intense media fear mongering – has simply capped the inescapable truth that a treasonous regime change is at hand.
"A change that is laying the ground for the establishment of a New World Order under the title World Economic Forum's planned 'Great Reset'.
"A plan whose coordinated
clamp-downs on human civil liberties are happening simultaneously in almost every country of the world
, accompanied by the lauding of 'rule by robot' with its deeply sinister techno-fascist undertones."
....
It is a powerful international cabal.
Prof Michel Chossudovsky writes -
The tests do not detect or identify the virus.
The figures are often manipulated to justify political decisions.
Moreover, official studies confirming the identify of the SARS-CoV-2 virus have not been released.
Both the concepts as well as the test results do not point to the existence of a Worldwide Covid-19 pandemic.
...
Prof Michel Chossudovsky
writes -
Corruption prevails at the highest levels of government as well within the upper echelons of the United Nations system.
The entire state apparatus as well as inter-governmental organizations are controlled by powerful financial interests.
Millions of people are now being tested which contributes to increasing the number of so-called "confirmed" Covid positive cases Worldwide.
These statistics are then carefully tabulated. The governments need those numbers to justify their totalitarian measures.
The Covid-19 Numbers Game: The "Second Wave" is Based on Fake Statistics
....
They control both sides?
Foggy Dewhurst
Talk about rubbing salt into the wound...
giving the UK Members of Parliament a £3,300 PAY RISE
...
fury-as-mps-get-3-300-pay-rise-to-85-291
They rub it in your face. The ubiquitous
33.
"Taunting the peasants"
.
The World Health Organization has finally confirmed that the coronavirus is no more deadly or dangerous than seasonal flu.
....
'When I needed them most, the NHS left me to die':

Health service faces wave of lawsuits

over hundreds of scans, tests and operations cancelled in lockdown - and one cancer patient had to beg strangers to fund her treatment
...
Paris Hilton
has organized a protest in a park near Provo Canyon School, along with several hundreds of others who share stories of abuse they say they suffered there or at similar schools for troubled youth. She is calling for the closure of the school.
British education secretary Gavin Williamson has threatened universities with funding cuts if they refuse to adopt an internationally agreed definition of antisemitism.
Williamson has
written to university vice-chancellors
, saying that he is shocked and disappointed that so few universities had recognised the
International Holocaust Remembrance Alliance's description of antisemitism
.
....
On October 3rd the
Michigan
Supreme Court struck down Governor Gretchen Whitmer's state of emergency and the powers it granted.
This court ruling was not the first of its kind but the third in a series of legal victories against lockdown orders.
The first was a
Wisconsin

Supreme Court ruling
that declared parts of Governor Tony Evers' stay at home order unconstitutional and the second was by a federal court that struck down Governor Tom Wolf's policies in
Pennsylvania
.
The Constitutional Reckoning of State Lockdown Orders – AIER

....
The HPV vaccine turned this normal, healthy girl into a brain-damaged victim.
Queen awards OBEs to six government scientists
"Six Government scientists have received OBEs – despite the possibility their advice might be challenged at a future inquiry into Britain's virus response.
"They have been honoured in recognition of their work during the crisis as part of the Scientific Advisory Group for Emergencies.
"But former Brexit secretary David Davis said honouring the Sage advisers was 'unwise and premature' given there may be an inquiry. He added: 'Their advice has been controversial and has sometimes changed and was sometimes wrong.'
"Those getting gongs include Professor Calum Semple of Liverpool University, who said that the virus was as deadly as ebola."

A severe skin reaction following vaccination:

ONS Survey: 75% of UK "cases" between April-June were people who weren't actually ill.
86% had none of the core symptoms associated with the disease, 75% had none at all.
anti-empire.com/ons-survey-75-of-uk-cases-between-april-june-were-people-who-werent-actually-ill/…


Henry Makow@HenryMakow·10h

operation-warp-speed-is-using-a-cia-linked-contractor-to-keep-covid-19-vaccine-contracts-secret/…
$6 billion in Covid-19 vaccine contracts awarded by Operation Warp Speed have been doled out by a secretive government contractor with deep ties to the CIA and DHS, escaping regulatory scrutiny and FOIA requests


Manhunt Underway In Montana For Vandals Who Warned locals that Israel orchestrated the 9 11 attacks....