CORONAVIRUS - NO FEAR
....
...
...
.....
..
Who might be the best person to have as the US President when carrying out the Scamdemic?
In his memoir,
The Art of the Deal
, Trump wrote that his main focus as a youngster was "creating mischief."
Trump wrote-
Even in elementary school, I was a very assertive, aggressive kid.
In the second grade I actually gave a teacher a black eye.
I punched my music teacher because I didn't think he knew anything about music and I almost got expelled.
The Art of the Deal was authored by a hired ghostwriter,
Tony Schwartz
, who observed afterwards that Trump was often untruthful.

Darren Hudson says his teenage son Ollie was spending a night in hospital for observation following a bout of stomach problems.

When Darren turned up to visit Ollie he was told that Ollie had been found unresponsive by a nurse and had died.
In schools, the disruptive and criminal kids are often the most popular?
19 September 2020, massive London protest against the scam.
Masks
SILVIEW.media
Unknown commented -
Plandemic report from my country (Romania) Schools started here on Sept. 14th and in just a few days they have become detention centers.
Parents are allowed to bring their kids only to the school gates, any other kind of human interaction (kissing, hugging) is forbidden. The same thing is forbidden between kids and their teacher. THEY ARE NOT ALLOWED TO EAT, DRINK WATER or sometimes even go to the toilet. Police patrols the schools.
Even in kindegartens the educator-child interaction is forbidden. If a kid starts crying, it doesnt have to be touched.
Children have already had enuff and many parents are withdrawing them from school.
In the rural environment, they are trying hard to vaccine kids illegally. Medical experiments are done on institutionalized kids and people (nothing new, sadly).
We are protesting, but, obviously, we are few. Actually we are not at war with elites, but with the retards around us. And regardless, as Crowded House says: "You know they won't win".
...
...
State shakedown, mass breakdown
Global orders, riding over borders
Get behind your doors for the new world order
Doctor Evil and his needle
Doctor Evil with a masterplan
A false vaccine, like a bad dream
They'll plant a microchip, every woman, child and man
A plan to chip us all, to have complete control
The land, the sky, your soul
...
On No More Lockdown,
Van Morrison sings
:
"No more lockdown / No more government overreach / No more fascist bullies / Disturbing our peace …

No more taking of our freedom / And our God-given rights / Pretending it's for our safety / When it's really to enslave …"
'Many kids in New York's pediatric nursing homes, medically fragile children under the age of 21, have been unable to see their parents since the onset of the state's COVID-19 crisis.'
Why children
"What I do find really depressing (though not at all surprising), is the degree to which the left and organised labour have been sucked into this nightmare but then again, they've been bitten by the fear bug as well."
https://investigatingimperialism.wordpress.com/2020/09/16/the-great-scampede/
...
Anti-inflammatory foods include Garlic, Ginger, Walnuts and Broccoli ...
"Now, the Covid therapy being used in Italy is with anti-inflammatories and antibiotics, as in influenza, and the number of hospitalized patients has been reduced.
"Patients with rheumatoid arthritis have never needed to be admitted to the ICU because they are on corticosteroid therapy, which is a great anti-inflammatory.
https://gistflash.com/discovery-autopsies-prove-that-covid-19-is-a-disseminated-intravascular-coagulation-pulmonary-thrombosis/…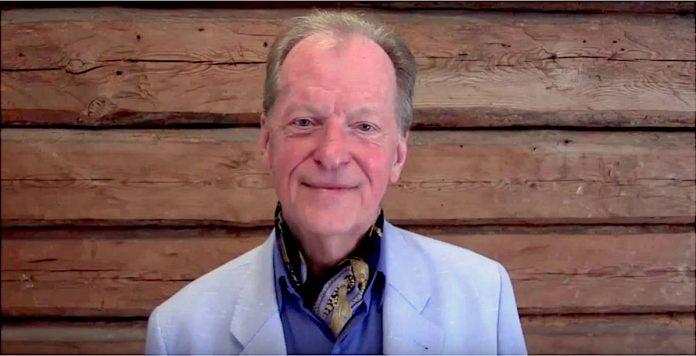 Jens Jerndal
Jens Jerndal, ex Diplomat, writes -
"How can we explain that nearly every so-called sovereign country obeyed the command to lock down the entire country...
"Is that proof that we already have a covert world government, and WE THE PEOPLE haven´t even noticed it?"
https://henrymakow.com/2020/09 / What the Covid-19 Agenda is Designed to Achieve
"The tests used are simple Antibody or PCR tests with an acknowledged error margin of up to 80%.
"The tests are useless for identifying Covid-19 from other similar infections.
"The scam is a kind of rehearsal or test balloon to see how far they can go, and how easily the world population can be manipulated...
"They want to furtively introduce the New World Order dictatorship."
Some Jewish folks call it a Scamdemic.
Some Jewish folks say that Covid19 is not a scam.
Is there a battle between some of the Nationalist Zionist Jews and some of the Globalist Jews?
Brabantian

16 September 2020 at 13:50

writes -
"Henry Makow sees the Zionist Jews such as Netanyahu, versus the Globalist Jews such as Soros, as still battling it out.
"Each is well is connected with various gentile factions, in part through freemasonry.
"Zionists link to various nationalists such as Trump.
"The globalists link to the more mainstream politicians and also the Silicon Valley tech giants."
Infectious diseases expert professor Mark Woolhouse says -
"
History will say that trying to control Covid-19 through lockdown was a monumental mistake on a global scale
, the cure was worse than the disease," said Woolhouse, who is now calling on the government to unlock society before more damage is done.
https://summit.news/…/uk-government-scientist-admits-lockd…

/
....
A federal judge ruled on Monday 14 Sept 2020 that Pennsylvania Gov.
Tom Wolf
's (D) coronavirus orders, which shut down the state, closed businesses and limited gatherings, were unconstitutional.
U.S. District Judge William Stickman IV, said
in his opinion
that COVID-19 orders from Wolf and Pennsylvania Secretary of Health Rachel Levine violated and continue to violate the First Amendment right to freedom of assembly and the due process and equal protection clauses of the 14th Amendment.
Federal judge rules Pennsylvania's coronavirus orders are

...


James R 16 September 2020 at 04:13 writes -
"... There are two major competing factions in the West - the Neocon Zionists, as represented by Trump, and the globalist technocrats, spearheaded by the Rockefeller wing of the CIA.

"While the Neocon Zionists have an over representation of Jewish people in key positions, the globalist technocrats, responsible for the Covid coup, do not..."
Test Centres empty.
Anonymous 16 September 2020 at 00:57 writes -
Good morning Aangirfan. The 'Tests' are an interesting point. I believe there is a little bit more to the story than first meets the eye.
Firstly (by now) we all know the PCR was never fit for purpose and through multiple amplifications produces a high number of false positives (clearly intended).
I also believe that the number of tests they claim to be making is also false. I have passed the 'so called' Test Centre in Edinburgh 5 times in the last 2-3 weeks en-route to the airport. There is signage directing to the centre.
However, not a single person waiting that I could see. We are shown pictures of queues around the block and hear (through MSM) people being sent hundreds of miles to be tested. Not buying it for a second.
We're meant to believe 240,000 tests per day etc. The tests are a bit like the (so called) virus itself - nobody seems to know any one with the virus and no one seems to know anyone who has had a test.
More unreliable tests reveal more alleged cases.
Boris Johnson working on a kibbutz.
"
Action must be taken now to bring our leaders to account
for the unforgivable damage done and to ensure that going forward, legislation is adequately scrutinised and challenged. The only way this can be achieved is through the courts."
"Estimates suggest that lockdown itself has caused 2,700 deaths a week. That is made up from suicides, mental health problems, domestic violence, missed medical appointments and the removal of resources from other health problems which the NHS cannot deal with effectively."
Why I am taking the government to court over its Covid-19 ...
Priti Patel is the UK cabinet minister responsible for the police and security service MI5.
She vows to snitch on her OWN neighbours

if they flout the curbs
Priti Patel wanted UK aid money, meant for poor people, to go to the Israeli army and to al Qaeda?
PRITI PATEL, FRIEND OF ISRAEL
Jeffrey Epstein' and his friend Nadia Marcinko (aka Nada Marcinkova)
Jeffrey Epstein's Nadia Marcinko (aka Nada Marcinkova)
Epstein's Nadia Marcinko learnt to fly at the same Mossad-linked airfield as the Hebrew-speaking Mohamed Atta.
There is a belief that there is a cabal that creates the crises.
Is there a cabal?
Fear, Uncertainty and Doubt (FUD). Covid-19 is No Longer a High Consequence Infectious Disease

.
By
Mark Taliano
'The powerful Global Financial Elites operating under the auspices of the World Economic Forum (WEF) are controlling, impoverishing, and destroying world populations using a social engineering
strategy of Fear,
Uncertainty, and Doubt.'
People with no symptoms do not spread the disease.
'Below, Dr. Fauci admits that "asymptomatic transmission" has never been the "driver of outbreaks."
..
'Canadian Public Health Physician
Dr. Yaffe admits that
tests give false positives "almost half the time" in certain populations.
'In this May 14, 2020 briefing, Chris Whitty, the UK's Chief Medical Officer, admits that
to most people, coronavirus is entirely harmless.

In March, 2020, the UK government admitted that COVID was not a "High Consequence Infectious Disease":
As of 19 March 2020, COVID-19 is no longer considered to be a high consequence infectious disease (HCID) in the UK.
The 4 nations public health HCID group made an interim recommendation in January 2020 to classify COVID-19 as an HCID. This was based on consideration of the UK HCID criteria about the virus and the disease with information available during the early stages of the outbreak. Now that more is known about COVID-19, the public health bodies in the UK have reviewed the most up to date information about COVID-19 against the UK HCID criteria. They have determined that several features have now changed; in particular, more information is available about mortality rates (low overall), and there is now greater clinical awareness and a specific and sensitive laboratory test, the availability of which continues to increase.
The Advisory Committee on Dangerous Pathogens (ACDP) is also of the opinion that COVID-19 should no longer be classified as an HCID.
Labels: cabal, covid 19, Epstein, Fauci, high consequence infectious disease, Israel, New Zealand, Pennsylvania, Pritti Patel, protests, tests, Whitty, Yaffe, Yeadon