ISRAELI INTELLIGENCE, COVID-19 SCAM, BLACK LIVES MATTER, DR BUTTAR, MASKS, VACCINATIONS, WARS, GOYIM, GHISLAINE MAXWELL
Henry Makow@HenryMakow
·
7m
Israeli intelligence linked firm guiding US lockdown policy
A company tied to Israel's military intelligence is partnered with the state of Rhode Island to use a system to choose Americans to be locked down.
"Once flagged, state health officials can target those individuals as well as their communities for mandatory testing, treatment and/or more restrictive lockdown measures.
"The firm, Israel-based Diagnostic Robotics, is poised to announce a series of new such partnerships with several other U.S. states as well as major U.S. hospital systems and healthcare providers in the coming weeks,
according to a company spokesperson
.
"The first of these announcements
came on June 30
regarding the firm's new partnership with Mayo Clinic.
"They have also been in discussions with Vice President Mike Pence about the platform's implementation nationwide since April.
"Their creeping expansion into the U.S.' state coronavirus response and that of other countries
has been
directly facilitated by the organization Start-Up Nation Central,
funded by
controversial hedge fund manager Paul Singer and
directly partnered with
an Israeli government-backed intelligence initiative.
"The aim is to make the United States dependent on technology developed by the Israeli military or intelligence community as a means of preventing the adoption of policies that support the non-violent Boycott, Divest and Sanctions (BDS) movement at the state and local levels.
"This initiative also serves the dual purpose of ensuring Israel's political influence and positioning as the global "cyber power," an oft-repeated policy goal of Israeli Prime Minister Benjamin Netanyahu."
Fake? The communications office at the Denver airport told The Associated Press in an email that
the painting in question is not an image from the airport's art collection.
....
Senator and Former Minnesota Family Doctor of the Year Being Investigated for

Questioning Covid Death Certificates

— Waking Times
Hitler?
Henry Makow@HenryMakow
·
6h
#scamdemic
This morning, my Uncle went to his knee doctor (in a large well-known city) for a post-op check-up, and his Doctor told him a story...
"Four colleagues and I did an experiment; we sent in 7 unused tests with fake patient names, and all 7 RETURNED POSITIVE."'
...
Ghislaine Maxwell's body double appeared in court?
"Due to restrictions imposed by the coronavirus pandemic
reporters could only listen-in to proceedings."
Broadway star Nick Cordero
is alleged to have died from Covid-19.
Cordero appeared in an episode of the Showtime series 'Queer as Folk'.
Cordero spent a total of 95 days at Cedars-Sinai hospital in Los Angeles.

He was first admitted to the hospital in March.
The initial diagnosis was pneumonia.
Nick Cordero tested negative for Covid-19, in two tests.

In April, Nick had one of his legs amputated after suffering from blood clots.
He also endured two small strokes, septic shock, and fungus in his lungs.
In the UK, another 35000 cancer patients could die in a year due to Covid. Experts warn of an explosion of ill health.
...

Cat @Just_Cat1
·
22h
Scotland is full of deluded idiots

John Johnston@johnjohnstonmi· 4 Jul

More from that event at the Scottish border.
Telling people to 'stay the f**k away' and screaming "plague carriers" at people in caravans and campervans.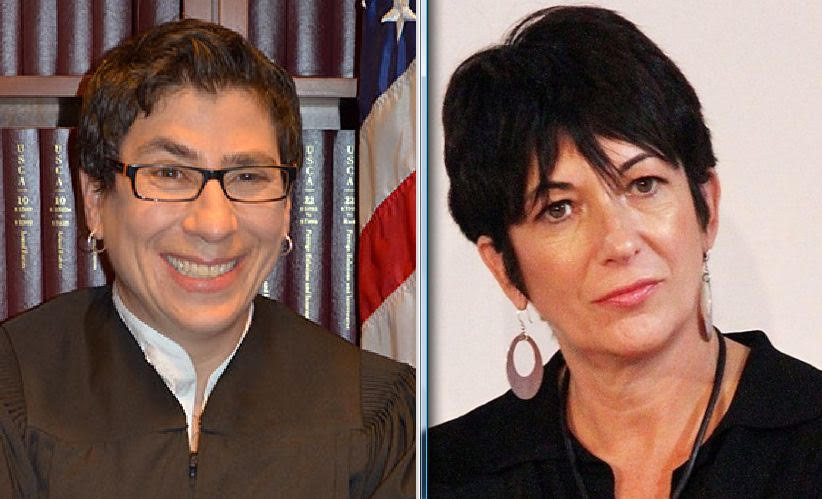 Henry Makow@HenryMakow
Brabantian: "The judge in the Ghislaine Maxwell case is a pioneer openly Jewish lesbian Alison J. Nathan, left. Beyond being LGBT ... is she LGBT+Q+P? (+queer+paedo)? What is her view of MAPs, 'Minor-Attracted Persons', as they now call them? That might be important."
In Germany, "an internal report of the Federal Ministry of the Interior has determined that, because of the lockdown, 90% of all necessary operations were not carried out, which affected 2.5 million people.
"In this report it is written that
5,000 to 125,000 patients have died as a result of the government measures.
"False and untrustworthy figures have been used for fatalities, misused for intimidation.


"The number of cases was already significantly declining well before the "lockdown"."
Kirby Sommers@KirbySommers
·21h

A Trump connection to Ghislaine's HIDING place.
The wife of Ghislaine's attorney is related to Anthony Fauci.
Small world. Imagine that.


Henry Makow@HenryMakow·14h

"Even after the pandemic faded, this more authoritarian control and oversight of citizens and their activities stuck and even intensified." - Excerpt-Rockefeller Foundation/Global Business Network-2010
https://files.constantcontact.com/daa02ded201/1f560d63-ea94-4587-89e8-48e6b224046b.pdf
'I run a small coffee shop and when the state decreed, I reopened for takeaway (I was 'allowed' also by the local council to use a small area outside my premises for people to sit down and drink their takeaways).
'Occasionally, when the weather has been bad or someone with an infirmity hasn't been able to take their drink away, I have let them sit inside.
'This morning I was visited by the police and warned. I was informed that two complaints had been made against me for serving drinks inside the premises. All for making someone a cup of tea and being human enough to let them have it inside.
'
Last year my business was burgled and trashed and drug dealing was going on in the park that my business overlooks. And what happened then? Absolutely nothing.
This isn't the kind of country that my grandfather fought to preserve.
'PETER HITCHENS:

We've all turned from normal humans into muzzled masochists!
Researchers in Barcelona detected COVID-19 in 'wastewater' in March 2019.
Chief of
the Chinese Center for Disease Control and Prevention
, Zeng Guang said that the presence of Covid-19 in a sample in Barcelonal, nine months before the disease was first reported in Wuhan, pointed to a different potential origin of the outbreak.
So far the hunt for information has centred around Wuhan.
...
Don't touch other people's balls.
Sir, – The government is still behaving as though battling the Black Death.
Fear and isolation will be killing people or making them ill.
Then despair yet to come over the many subsequent years in our wrecked economy will eventually kill more than the influenza has done.
Homes given as security for business loans will be taken by banks, to ruin lives and break families.
The stress of unemployment will kill others, and ruin the health of the nation.
Already our health has declined, as GPs and hospitals ignore the usual level of help needed.
Treatable symptoms will become inoperable cancers. Teeth have been rotting as hair has been growing.
All to keep hospitals empty against the inaccurate projections of a few scientists, and to save people with a short life remaining anyway, including my own.
Nonsense from start to horrible finish.
Malcolm Parkin.
Gamekeepers Road,
Kinnesswood.
"A high-profile European pathologist is reporting that he and his colleagues across Europe have not found any evidence of any deaths from the novel coronavirus on that continent.
"Dr. Stoian Alexov called the World Health Organization (WHO) a "criminal medical organization" for creating worldwide fear and chaos without providing objectively verifiable proof of a pandemic.
"Another stunning revelation from Bulgarian Pathology Association (BPA) president Dr. Alexov is that he believes it's currently "impossible" to create a vaccine against the virus.
"He also revealed that European pathologists haven't identified any antibodies that are specific for SARS-CoV-2."
"No One Has Died from the Coronavirus" - Global Research
Palestinian girl and Israeli military
"Black Lives Matter had the establishment's full support while rioters were burning down businesses, looting stores, attacking innocent people in the streets and killing cops but all that appears to have changed with just one tweet.
"The backlash was swift."
Black Lives Matter 'Canceled' After Criticizing Israel
....
"Every day one Jewish organization or another brags about its success in defeating our most precious Western values: political freedom and intellectual tolerance.
"At the moment it seems as if silencing authentic Black voices is the Zionists' prime objective.
"This morning we learned that Black Voices do not matter at all: in a total capitulation to the French Zionist Lobby group CRIF, the great Black French comedian Dieudonné's YouTube channel was deleted by Google."
The Powers That Be control the media and almost everything else.
Please visit
http://www.vernoncoleman.com
Scotland's Prime Minister Nicola Sturgeon has announced that face masks will be mandatory in shops from July 10 2020.
"On June 13 2020, President Donald Trump told the graduating class at
West Point
, "We are ending the era of endless wars."
"That is what Trump has promised since 2016, but the "endless" wars have not ended.
"Trump has dropped more bombs and missiles than George W. Bush or Barack Obama did in their first terms, and there are still roughly as many US bases and troops overseas as when he was elected."
Trump's Record on Foreign Policy: Lost Wars, New Conflicts

...
...
Who is pulling the strings?
Above - Ghislaine Maxwell's house in Bradford, New Hampshire. This is where she was arrested.
Labels: BLM, covid-19, Denver airport, Diagnostic Robotics, Dr Buttar, Ghislaine Maxwell, GOYIM, masks, Palestine, vaccinations, wars