FLOYD FALSE FLAG
Outside a courthouse in Omaha, Will Brown, after being killed, mutilated and burned. Brown was almost certainly innocent of the crime of which he had been accused. Cached
Ordinary people can be wicked.
Black lives do matter.
Emmett Till (above) was from Chicago. In 1955, fourteen year old Emmett went to visit a small town in Mississippi. He allegedly whistled at a woman outside a store.
A group of men later beat Emmett to a pulp, shot him dead and dumped him in a river.
The woman, who said she was offended by Emmett, was Carolyn Bryant Donham. She now confesses that her allegations - that Emmett grabbed her and was menacing and sexually crude toward her - were false. Woman Linked to 1955 Emmett Till Murder
"What the Black Lives Matter movement does not understand is that they are being used by the billionaire white capitalists who are fighting to push the working class even lower and end the national sovereignty principles ….
"It is all about who will own the United States and have free access to its revenues: Either the American people under democracy or globalist billionaire individuals."
Americans murder Philippinos
"It is sad to say BLM serves the elite by ignoring or remaining ignorant of the main problem -boundless predation by a neoliberal criminal project that considers all - black, white, yellow, brown -as expliotable and dispensable serfs."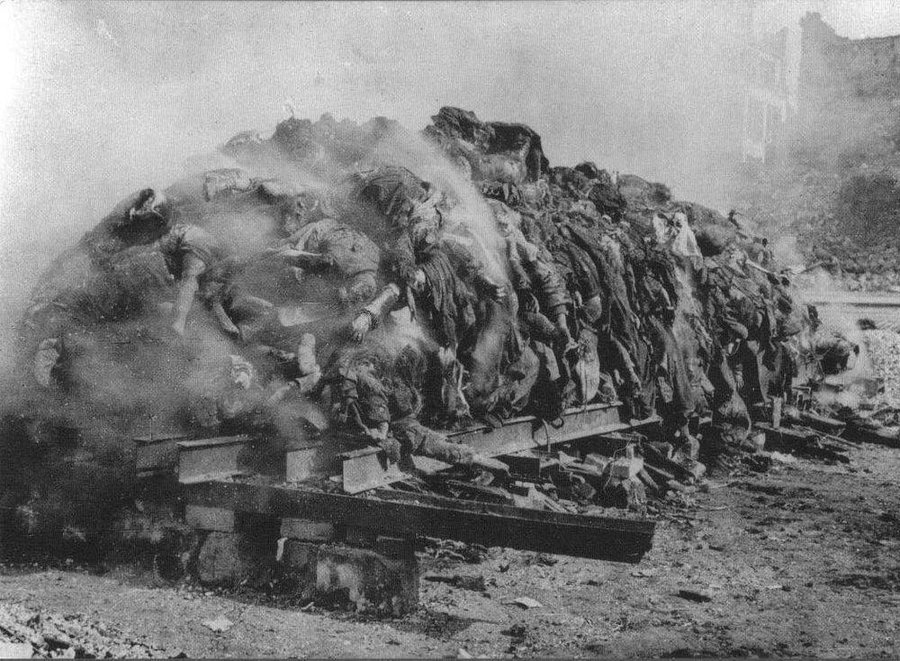 Corpses of German civilians after the UK military bombed Dresden in February 1945. There has been an attempt to pretend that these corpses are victims of the concentration camps.
There is an international cabal that runs the world?
It's the feudal elite and their mafias versus the ordinary people?
"
Lord Victor Rothschild
...
made Churchill's decisions, including the bombing of the food trains into the concentration camps, and the continued strafing of the inmates."
Rothschild is on record as saying:
'There will be no room in the new country for shnorrers' (poor Jews).
"He only wanted the rich powerful and influential for the new land, the rest were to be sacrificed."
Humans can be wicked.
At
Counterpunch
Professor David Schultz sees a
final fracturing
of the Democratic party, labor, and civil rights coalition:
"It now appears that, in the USA, the Democrat Party and the civil rights community are at odds with
labor and unions
."
"What was the last time these posturing millionaires with political power have done something for the working class"
This Isn't A Way To Defeat Trump - Moon of Alabama
Trump (right) with Roy Cohn.
Who is controlling Trump?
Brabantian writes -
Nigel Farage is booted off the radio - for linking current statue removals to that done by the Taliban.
Brabantian writes -
Jews generally hold their greatest scholar to be
Moses Maimonides
, also known as 'Rambam' (1138-1204), who, the Times of Israel tells us, had some very disparaging words about black people ...

Maimonides apparently spoke of blacks "as irrational beings, and not as human beings; they are below mankind, but above monkeys, since they have the form and shape of man, and a mental faculty above that of the monkey"

The Jewish Talmud speaks of black people as suffering from the 'curse of Ham' (a son of Noah in the bible) and therefore suffering from physical and other drawbacks

https://blogs.timesofisrael.com/racism-rambam-and-the-black-etrog/ http://uprootedpalestinians.blogspot.com/2012/04/zionist-infestation-of-africa-zimbabwe.html

Some think William the Conqueror who swept into England in 1066 may have been Jewish.
https://standpointmag.co.uk/issues/may-2016/counterpoints-may-2016-joshua-gelernter-william-the-conqueror-was-jewish/
David Levy Yulee statue in Florida.
David Levy Yuleee
was one of the tens of thousands of Jewish slave-owners.
Reportedly, his statue is untouched.
Statue of Judaic Confederate slave owner

...
"In 2013, in the USA, over 72% of Blacks were born out of wedlock.
"In Chicago, in 2003, 79% of Black babies were born to single mothers and today Black women are more than 3 times as likely to have an abortion."
The George Floyd Psyop
Trump could have said that the Floyd incident was a false flag.
But, Trump is in weak position?
"The volume's 181 pages contain contact information for billionaires (
Bronfman, Stern, Bloomberg, Koch, Wexner, Zuckerman, Kravis, Rockefeller)
, multimillionaires (
Trump
), celebrities, journalists, and socialites."
Inside Wealthy Pervert's Massage "Black Book"
Trump backer's spy firm
used by Met Police and Cabinet Office
Palantir's software was trialled by the Met Police and the Cabinet Office. The CIA-backed tech firm lobbied Gove, Hancock and others before winning key NHS contract.
...
Anonymous

12 June 2020 at 06:47

writes -
The kneeling to the rioters and their associated movements, by all sorts of political leaders, people and even police and military, is disturbing for many people, whether left or right, white or black.
This seems to be groveling and humiliation, that is encouraging aggression by the lawless
US whites, 56% of the population and on the verge of becoming a minority
- already true of USA schoolchildren - are fearing a South-Africa-style ending of bloodshed against themselves, indulged by the next government
Trump has made a 30-second campaign video, 'Kneel', where he contrasts himself 'standing up for keeping communities safe', contrasted with Joe Biden genuflecting amidst riot images
... Trump talking about Antifa burning and looting, the strange demands that police be defunded and eliminated
The video is effective ... Was this the plan? So much disorder and violence perceived as from the Left / minorities, that
the Right wins?
..
So many of the United States' leading retired generals and admirals have publicly criticised Donald Trump for his handling of the protests over the death of George Floyd.
The elite military club that's scorning Trump
...
Trump is losing ground.
Labels: Biden, Black Lives Matter, Chaz, Dresden, Emmett Till, generals, kneel, polls, riots, Rothschild, Seattle, Trump, Will Brown