THE REAL NAZIS
Himmler and his daughter Gudrun.
Gudrun
Burwitz, née Himmler,1929 - 2018, was the daughter of
Heinrich Himmler
, 'chief architect of the
Final Solution
'.
[1]
Himmler was reportedly Jewish, and was allowed to escape after World War II.
HITLER'S JEWISH NAZIS - PART 1
/
HITLER'S JEWISH NAZIS - PART 2
/
HITLER'S JEWISH NAZIS - PART 3
Himmler's daughter Gudrun worked for Germany's foreign intelligence agency in 1960s, officials have admitted.


Trump is reportedly a fan of Hitler.
Gudrun worked for West Germany's Bundesnachrichtendienst (BND) - the Federal Intelligence Service - from 1961 to 1963
Himmler's daughter worked for Germany's foreign intelligence agency
Gudrun was always a fervent Nazi and did not believe the official story on the holocaust.
HOLOCAUST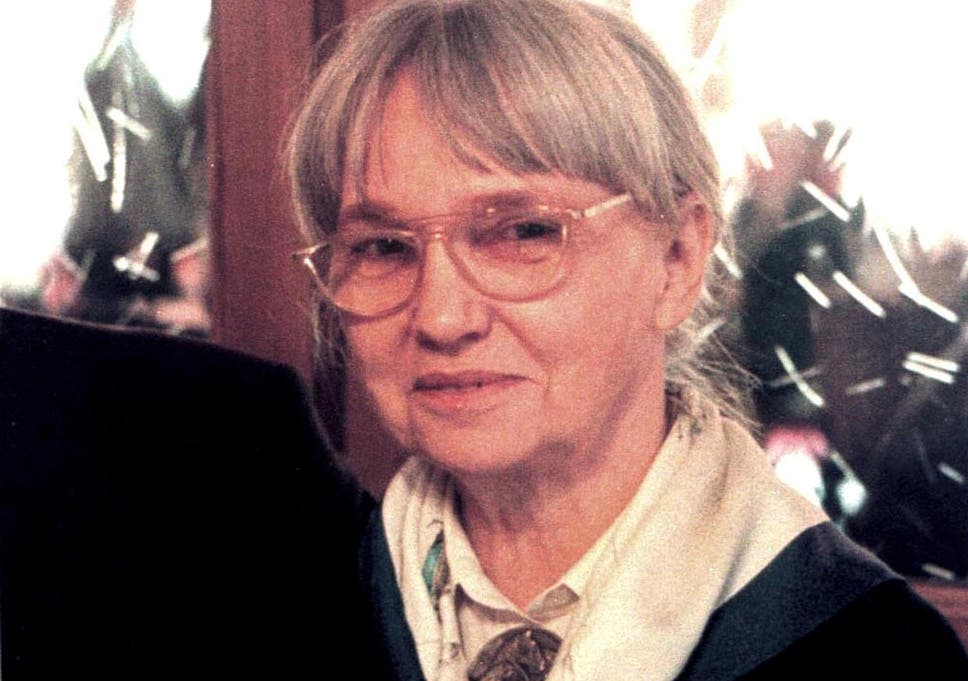 Gudrun Burwitz (Gudrun Himmler), who worked for West Germany's BND spy service agency from 1961 to 1963.
Gudrun was suspected of being a supporter of modern
neo-Nazi
movements, which are said to be linked to certain Zionists.
West Germany's BND spy service was full of former SS Nazis.
Immediately after World War II,
Reinhard Gehlen
, head of Hitler's army intelligence on the Eastern Front, was employed by American intelligence at Fort Hunt, Virginia.
In 1946, the Americans returned Gehlen to West Germany, to help the CIA and NATO.
In 1956, the Gehlen Organisation passed from CIA to West German government control and became the BND, Reinhard Gehlen serving as its first president until his retirement in 1968.


"The Gehlen Organisation" was allowed to employ at least 100 former
Gestapo
and SS officers.
Among them were
Adolf Eichmann's
deputy Alois Brunner, ex-SS major Emil Augsburg, and
Karl Josef Silberbauer,
a Gestapo officer.
After World War II, Silberbauer worked as a police inspector in the Austrian capital Vienna
.
Klaus Barbie
, the torturing Gestapo chief of Lyon, was recruited to the BND.
In the decades after World War II, the C.I.A. and other United States agencies employed at least a thousand Nazis as spies and informants, newly disclosed records and interviews show.
Eichman's body double and Eichman.
The C.I.A. knew where Eichmann was hiding, documents show
C.I.A. Knew Where Eichmann Was Hiding, Documents Show
The C.I.A. and West German intelligence knew that Eichmann was living in Argentina under the name Clemens, aka Ricardo Klement.
Israel's Mossad reportedly did not want to bother Eichman, who was reportedly Jewish.
HOLOCAUST

/
Eichmann was Jewish
.
"The 1999 Nazi Party Run by Wolfgang Hawke - whose birth name is Andrew Greenbaum. Greenbaum was indicted for selling Penis enlargement pills on the internet.
Real Nazis
In 1962, a man who appears to be Eichman's body double was put on trial in Israel.
"The West German government was wary of exposing Eichmann because officials feared what he might reveal about such figures as Hans Globke, a former Nazi government official then serving as a top national security adviser to Chancellor Konrad Adenauer."
C.I.A. Knew Where Eichmann Was Hiding, Documents Show
Hermann Ludeking, who was kinapped by the Nazis.
No-compensation-for-lebensborn-children.
Heinz Felfe, a former SS officer, worked for the KGB and for the Gehlen Organisation.
"Felfe rose in the Gehlen Organization to oversee counterintelligence, a Soviet agent placed in charge of combating Soviet espionage."
The American Nazi Frank Collins was discovered to be a Jew named
Frank Cohen
- He was convicted of hiring underage boys and violating them - He was sent to a country club prison by a Jewish Judge and released early
.
Real Nazis
The Gestapo was very Jewish.
Frank McDonough has written:
The Gestapo: The Myth And Reality Of Hitler's Secret Police
.
The Gestapo: The Myth and Reality
According to McDonough:
Many of the Germans who joined the Gestapo had been detectives in the pre-Nazi German police force.
After World War II ended, 40% of the Gestapo were re-employed in the police force, eventually receiving full state pensions.
Most of the top people in the Gestapo were middle-class law graduates, some with doctorates.
dailymail
Himmler
Himmler, who was reportedly Jewish, was the boss of the Gestapo, as well as the boss of the SS.
Hugh Thomas' 2001 book
The Unlikely Death of Heinrich Himmler
provides evidence that the 'Himler' who died in British custody in 1945 was not the real Himmler.
There is evidence that Himler was allowed to escape.
MI6's Kim Philby and Anthony Blunt, both of whom had links to Victor Rothschild, were reportedly involved in a cover-up.
The 'body of Heinrich Himmler', 1945.
Himmler's grandfather was Jewish.
Himmler neice, Catharine Himmler, married an Israeli
Himmler's SS cooperated with the Haganah, the Zionist underground military organization in British-run Palestine.
The Zionists are in bed with the Nazis
....
Brett Kavanaugh wrote the Starr Report (cover-up) on the Vince Foster death. My sinister battle with Brett Kavanaugh over the truth - by Ambrose Evans-Pritchard. Conservative Jewish Groups Hail Kavanaugh / How Supreme Court nominee Brett Kavanaugh helped build a synagogue... Film producer Ryan Kavanaugh was born to a Jewish family[13][14] in Los Angeles, California. His mother, Leslie (Levin),[15] is a real estate broker, and his father, Jack Konitz, a dentist turned businessman, was born in Germany and later changed his surname to "Kavanaugh" before his son's birth.[16][17]
We should not forget that the top people who run al Qaeda, ISIS and Saudi Arabia are reportedly crypto-Jews.
..
Osama bin Laden - 'crypto-Jew'.
According to Frank McDonough in
The Gestapo: The Myth And Reality Of Hitler's Secret Police
:
The Gestapo tortures included waterboarding, electric wires tied to sexual organs and forms of crucifiction.
The Gestapo: The Myth and Reality
These are the tortures that are currently used by the US military.
Kevin Wilshaw has been a Nazi. He is gay and Jewish.

The gay Nazi with Jewish heritage

.

Many of the top Nazis were sadistic homosexuals.

The Gestapo smashed people to pulp.

dailymail



"Alois Hitler was a brutally sadistic man who beat his wife and kids on a regular basis.
"He even kicked the family dog around.
"Adolf's father once left him for dead after a particularly savage beating.
"This left him so scared that he slept in the same bed with his mom for years."
The Life and Times of Adolf Hitler
An earlier Jewish Adolf Hitler.
According to
Tom Ewall
, University of Iowa -
"Children respond differently to abuse/neglect/trauma.
"They need defense mechanisms to deal with the attendant problem of a fragmented self...
"Different compensating techniques are employed...
"Some children derive relief or satisfaction by having others experience the pain that they've felt, leading to sadism."
What causes someone to become a sadist?
Many of the victims of the Gestapo were Christians.
There were groups of working-class teenagers, 'the Pirates', 'the Navajos' and 'the Raving Dudes', who opposed the Hitler Youth.
In 1944, in Cologne, the Gestapo publicly hanged 13 young members of these teenage groups.
dailymail
Outside a courthouse in Omaha, Will Brown, after being mutilated and burned. Brown was almost certainly innocent of the crime of which he had been accused. Cached . EXECUTED KID WAS INNOCENT
According to Frank McDonough in The Gestapo: The Myth And Reality Of Hitler's Secret Police:
After World War II, many thousands of members of the Gestapo escaped punishment.
There was no major trial of the members of the Gestapo.
Dr Werner Best, the head of Gestapo administration, spent only a few short years in jail and then got himself a top job with a top German company.
Reportedly, 297 former Gestapo officers became senior police officials in post-war Germany.
In post-war Germany, about half of the former Gestapo officers became civil servants, and most of the very top Gestapo officials returned to their jobs as lawyers.
dailymail
Bernadotte, who rescued many Jews from German concentration camps.
On 17 September 1948, Count Folke Bernadotte, while working for the United Nations, was assassinated in Jerusalem.
The killers of Bernadotte were the Jewish terrorist Stern Gang.
One of the organisers of the attack was Yitzhak Shamir, who became prime minister of Israel.
The Stern Gang also murdered several British officials.
During World war II, Bernadotte rescued many Jews from German concentration camps.
So why was he killed by Jews?
Himmler. Did Bernadotte know too much about him?
In April 1945, Heinrich Himmler asked Bernadotte to pass on a message to Churchill and Truman.
(
Folke Bernadotte - Wikipedia, the free encyclopedia
)
Himmler is supposed to have committed suicide in 1945, but there is evidence that he was allowed to escape.
Hugh Thomas' 2001 book The Unlikely Death of Heinrich Himmler provides evidence that the man who died in British custody was not Himmler.
MI6 traitors Kim Philby and Anthony Blunt were reportedly involved in a cover-up.
The German SS secretly supplied weapons to Jewish settlers for use in clashes with Palestinian Arabs.
(F. Nicosia, Third Reich (1985), pp. 63-64, 105, 219-220.)
The real Hitler? Hitler had Jewish connections.
Sir Alan Lascelles was King George VI's private secretary from 1943-52.
Lascelles, in his diaries, entitled King's Counsellor, wrote that, in June 1944, General Georges Catroux, of the Free French forces, had asked the British government's Alfred Duff Cooper "to see a certain French officer, urgently."
The diary entry for 21 June 1944 continues: "This man, who is a very big noise in the French intelligence service, told Duff that he had very reliable information that Hitler had fled from Berlin to a villa near Perpignan, where he is now hiding and waiting a favourable opportunity to slip across the Spanish frontier."
By 1944, Hitler no longer appeared in public.
(
20 July plot - Wikipedia, the free encyclopedia
)
Why might Hitler have wanted to leave Germany in 1944?
According to Lascelles, Germany talked of peace terms as early as 1943.
In his diary entry for 27 december 1943, Lascelles wrote: "Hughe Knatchbull-Hugessen telegraphed yesterday from Ankara that Numan (Turkish Foreign Minister) had told him ... that the German Minister in Bucharest had called (in uniform) on the Romanian Foreign Minister, and told him Germany would accept peace on the following terms: they would surrender fleet, submarines, merchant fleet, air force, disarm completely, evacuate all occupied territory, undertake never to ask for colonies, and leave Europe to be organised according to the wishes of the Allies.
"The only condition they asked for is economic freedom for Germany, but this is to be arranged as found suitable by the Allies."
Note how many countries became part of the Soviet Empire after 1945.
Roosevelt and Churchill insisted on unconditional surrender.
And this worked to the advantage of Jewish-controlled Russia, which ended up controlling Eastern Europe
(
The Price We Paid for Roosevelt's "Unconditional Surrender"
).
In 1943, sections of the German military showed signs of wanting rid of Hitler.
Between 1943 and March 1944 there were seven plots against Hitler.
(
Axis History Factbook: Assassination Plots & Attempts
)
The 20th July 1944 plot failed to kill Hitler, or his 'double'.
Journalist Abel Basti says Hitler escaped from Spain by submarine into exile in South America.
He claims to have a document showing the FBI searched for Hitler in Spain in 1947.
(
Adolf Hitler 'fled into exile' - The Sunday Mail
)
If Hitler fled from Berlin in June 1944, then who was acting as his 'double' back in Germany, up until April 1945, when Hitler supposedly died.
Is this Hitler's 'double'?
According to Time magazine, in 1935: "Adolf Hitler last week became the first Dictator frankly to employ a double.
"Impersonating the Realmleader, a pudgy-fingered, smudge-mustached person officially opened the new motor highway from Holzkirchen to Munich.
"Suddenly the crowd recognized Dictator Hitler standing unobtrusively a few yards from his double and good-natured German cheers were given first for one, then for the other."
(
GERMANY: Double Hitler - TIME
)
Reportedly, the Russians found the corpse of Adolf Hitler's double near Hitler's bunker.
In November 1944, the Daily Express published photos of Hitler 'past' and 'present', suggesting that the 'present' Hitler was not the real Hitler.
The Express pointed out that the ears on the 'present' Hitler were different from the ears on the 'past' Hitler.
The Daily Express, according to Sir Alan Lascelles in his diary entry of 23 November 1944, "proves fairly conclusively" that the man in the recent photos "cannot be the real Hitler."
This is Hitler as a young man. Notice his thin nose.
This could be Hitler's double. Notice the fat nose.
Hitler's double?
The real Hitler?
The 'body of Heinrich Himmler', after committing suicide, 1945. Some people allege that this is Himler's double.
aangirfan: HITLER IN ARGENTINA
Labels: Bernadotte, BND, body double, CIA, Eichmann, gay, Gehlen, Gestapo, Gudrun, Himmler, Hitler, Jewish, Lascelles, sadistic