'MOSSAD DID THE BARCELONA ATTACK'
Watching the Barcelona attack on 17 August 2017- Benyamin Netanyahu .
There is a belief that Mossad, and its friends from the USA, UK, Philippines, Turkey France, etc., carried out the attack in Barcelona.
"As the terror attack unfolded in Barcelona, Benjamin Netanyahu was briefed by staff from the local Israeli embassy on live video conference."
Watching the Barcelona attack on 17 August 2017- Benyamin Netanyahu
Josep Lluis Trapero, boss of the Barcelona police

In January 2017, a group from the Barcelona police (Catalonia's Mossos d'Esquadra) was in Israel to train with Israeli secret agents.
The Barcelona police
are trained by Mossad
The Barcelona police are linked to the extreme Jewish right
Barcelona: police linked to extreme Jewish right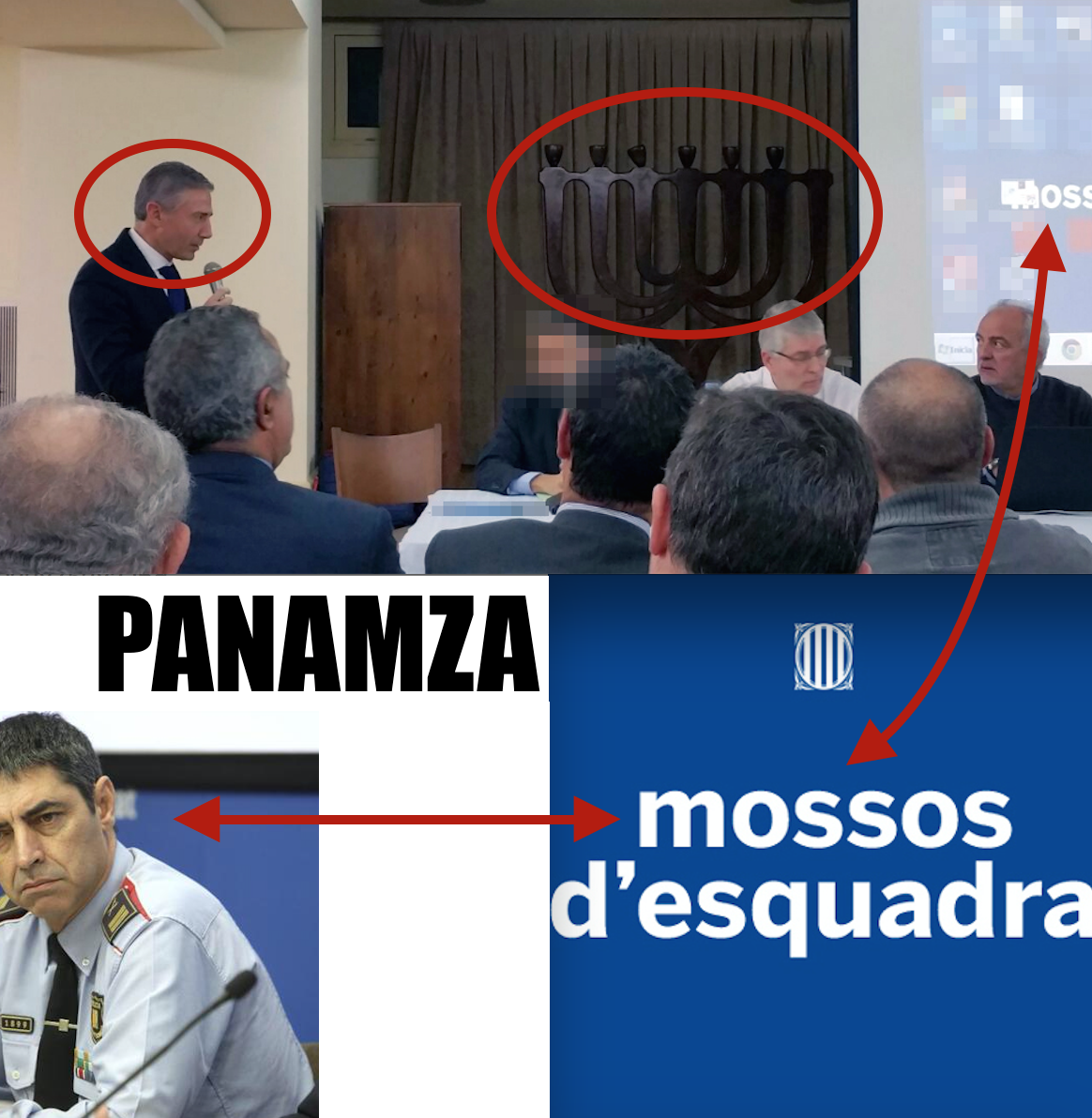 Josep Lluis Trapero, boss of the Barcelona police, has links to Israel.
Marchers in Barcelona have pointed out that ISIS is the Israeli Secret Intelligence Service.
Below is what we wrote earlier in various blog posts:
Israel has reasons to dislike Spain.
(
Israel-Spain relations
.)
Rival drugs mafias are at work.
Barcelona football team visiting Israel.
The French-Israeli businessman, Arnaud Mimran, and Netanyahu. Mimran is suspected of being close to the Franco-Israeli mafia.
france24.
There is a belief that the Kosher Nostra in Spain, and in France, has links to criminal activities.
French traffickers brought narcotics into France via
Barcelona
.
A document about "setting up a controlled delivery operation between Barcelona and France" bears the signature of François Thierry."
Lutte antidrogue
On 25 August 2017, France's top anti-narcotics police officer,
François Thierry
, was indicted on drug-trafficking charges.
Madrid 2004.
The Madrid Bombings of 2004 were apparently carried out by the security services.
According to The London Times
(Madrid Bombers Linked to Spanish Security Service
) :
"THE man accused of supplying the dynamite used in the al-Qaeda train bombings in Madrid was in possession of the private telephone number of the head of Spain's Civil Guard bomb squad.
"Emilio Suárez Trashorras, said to have supplied 200kg of dynamite used in the bombs, had the number of Juan Jesús Sánchez Manzano, the head of Tedax."
.
Barcelona is in Catalonia, which is dominated by Israel and Mossad.
Jordi Pujol, Catalan leader for 23 years
The Catalan Government buys anti-riot and security materials from Israeli companies.
The Catalan Government employs the Israeli security company 'Hancal System Engineering' for assessment in questions of security and control in prisons.
Police and military collaboration with Israel
.
Carles Puigdemont, left, president of the autonomous region of Catalonia and former mayor of Girona, thanks Jewish Russian Billionaire Shimon Aminov
.
CATALONIA THE NEWEST JEWISH STATE

.
The Catalan Government supports the 'Guardian Homeland Security' company, which trains military and police bodies in questions of security in training camps in occupied Palestine and which uses the logo of the Mossos d'Esquadra, the Catalan police force, to publicise its services.
Police and military collaboration with Israel
.
No Israelis were listed among the Barcelona attack's victims.
Barcelona attack
The Catalan Government authorises companies to import and export military material to Israel (torpedoes, ammunition and diverse armaments), for example Tyco electronics or Indra, with central offices in Barcelona.
The Catalan Government allows private Israeli companies of the ICTS security mega-group to interrogate travellers in the El Prat airport in Barcelona.
Police and military collaboration with Israel
.
Former Catalan leader Artur Mas.
The police force in Barcelona and the surrounding area of Catalonia has been linked to Mossad.
At the start of Summer 2017, almost a thousand Jewish students began a visit to Catalonia to tour the areas of Jewish history in Barcelona.
A THOUSAND MAINLY RUSSIAN JEWISH STUDENTS
.
Pupils from London's Jewish JFS school were in Barcelona on 17 August 2017 when the van attack took place.
17-year-old JFS pupil Rebecca Herman says that 'a chance meeting' meant she was not walking on Las Ramblas at the time of the terror attack.
Rebecca Herman and seven friends were due to dine at the Maccabi kosher restaurant near which the attack began.
She said: "We meant to go but we were delayed. We met an Israeli event promoter on the beach. He kept talking to us so we were running late."
.
Zinovy Alman and his wife, a Jewish family who were in Barcelona.
Zinovy Alman, from the USA, said that he and his wife, daughter, and 12-year-old grandson, Benjy Krantz spent many evenings during their trip in the Las Ramblas district.
"However on the day of the attack, he said they took a train to Sitges, a coastal town about 25 miles east of Barcelona."
.
The terrorists are sometomes Israelis.
In 1947,
Jews, working on behalf of 'Israel', attempted to
BOMB THE BRITISH PARLIAMENT
.
According to Associated Press, in September 1947, the Paris police arrested a number of Jews after discovering six aerial bombs with which the Jewish the Stern Gang intended to bomb London.
08 Sep 1947 - JEWISH PLOT TO RAID LONDON Six Aerial Bombs.
In 1940, the Jewish Stern Gang (Lehi) proposed intervening in World War II on the side of Nazi Germany.
Lehi (group) - Wikipedia, the free encyclopedia
By 1948, some 200 British Soldiers and 90 British policemen had been murdered by Jewish terrorist gangs such as Irgun...
YOUR CHIEF ENEMY IS ISRAEL
.

.
On 5 Jul 2017, Spain's National Police had
an anti-terror drill.
Anti-terror drills are normally held before 'the authorities' carry out false flag attacks.
Drills were carried out before, or at the same time as, the attacks of 9/11, the London Bombings, the Madrid Bombings, the Oklahoma City Bombings, the Norway Oslo Attacks, Sandy Hook Elementary, Batman Shooting and the Boston Bombing.
Many Jews were thrown out of Spain after an
Edict of Expulsion
was issued by Ferdinand and Isabella, in 1492.
The expulsion in Spain was preceded by expulsions in England, France and Germany, among many others.
[52]
[53]
Do certain Israelis want revenge for the dispossession and ethnic cleansing of Jews from Christian Spain?
Spanish and Catalan reactions to the Barcelona attack
Barcelona

The Zionist Israelis are not necessarily peaceful people.

In

The Little Drummer Girl

,

by John le Carré, Martin Kurtz, an Israeli spy, recruits Charlie, a radical left-wing English actress.


Charlie is sent on a mission to place a bomb at a lecture given by an Israeli moderate.



It was reported on 17 August 2017 that "Two armed 'terrorists' are holding hostages inside a restaurant in Barcelona after carrying out the horrifying van attack.
"Police have reportedly surrounded the Luna d'Istanbul eaterie near the Boqueria food market in a bustling district of the Catalan capital."
Chilling Barcelona terror attack
"There are reports that two individuals involved in the attack are hiding in Bar Luna De Istanbul."
Security Message for U.S. Citizens
Sky News reported that the attackers, including the driver of the white van, were entrenched in the restaurant.
Why did the police not apprehend the attackers in the restaurant?
Luna de Istanbul restaurant.
TV3 reported that at least one attacker was holed up in a Turkish restaurant called Bar Luna de Istanbul.
"The driver of the van ran into a restaurant and there were fears that patrons may have been caught up in a hostage drama at the Luna de Istanbul restaurant on Carrer Tallers."
Barcelona terror attack
Turkey's First Son Bilal Erdogan enjoys dinner with ISIS leaders.
"Negotiations are in progress between gunmen/terrorists and Spanish Police at the Luna De Istanbul Restaurant."
LIVE | Barcelona Terror Attack
"There is a pattern to the recent terror attacks: Turkish restaurants and sites."
Maps of Terror
Several foreign nationals were among 18 people killed in an attack at a Turkish restaurant in Burkina Faso's capital, August 13, 2017.
Maps of Terror
"You will note that in four attacks - an Istanbul restaurant in Spain, a Turkish restaurant in Africa, locations in Turkey, and in the Finnish city of Turka, the Turkish link and name game is there."
General Firtina, attache in Washington in 1991. The Middle East Report concluded in 1998 that probably the greatest strategic move in the Clinton years was "The Ankara Pact"- an alliance between the Turkish military and the USA and Israel. (Turkey, Drugs, Faustian Alliances & Sibel Edmonds)
On 1 January
2017 there was a mass shooting at an Istanbul nightclub
.
The mass shooting at the Istanbul nightclub on New Year's Eve was carried out professionally with the involvement of an intelligence organisation, Turkish Deputy Prime Minister Numan Kurtulmus said on 16 January 2017.
"It appears the Reina attack is not just a terrorist organisation's act, but there was also an intelligence organisation involved. It was an extremely planned and organised act," Kurtulmus said during an interview with broadcaster A Haber.
Istanbul nightclub attack involved an intelligence organisation - Reuters
No beards.
The Barcelona Attack is said to be the work of ISIS.
According to DIA documents, in 2012, the US Defense Intelligence Agency (DIA) was considering setting up an extremist Moslem state in Syria, in order to promote the interests of Israel and its allies.
Judicial Watch
Thus ISIS was created by the USA and its allies.
ISIS is a
US-Israeli creation
ISIS kills Christians but not Israelis.
Israel has cared for ISIS soldiers in its hospitals
The USA and its allies has supplied ISIS with its weaponry and its Toyota trucks.
Information Clearing House
A
Texan plumber
discovered that his truck was being used in the war, replete with his business name still on the door.
The Israeli Group SITE is used to release the ISIS propaganda videos.
US-Israeli creation
The leader of ISIS (Abu Bakr al-Baghdadi) is said to be an
Israeli Mossad agent by the name of Simon Elliot or Elliot Shimon
.
The US claims it is attacking ISIS, "yet Russia was able to do in a few months what the US has been unable to do for years."
US-Israeli creation
ISIS is an extension of Al Qaeda.
There have been reports that US soldiers were told not to fire on ISIS targets.
"U.S. military pilots could not get clearance to launch a strike, according to a leading member of Congress."
Free Beacon
Donald trump is said to be supporting ISIS.
TRUMP, ISIS, SEXUAL ABUSE
/
TOMMY, HARY, GILBERT AND ISIS
/
TRUMP LINKS TO ISIS
~~
Labels: Barcelona, Catalonia, Chabad, cocaine, drill, ISIS, Israel, Jewish students, Madrid Bombs, Mossad, Netanyahu, Puigdemont, Trapero, Turkey