CHARLOTTESVILLE; KOSHER NOSTRA; PSY-OP; JAMES FIELDS; PATSY
.

Sheldon Adelson and Steve Bannon.

STEVE BANNON.

Steve Bannon's

mother's name

Herr

is both German and

Ashkenazy Jewish. Steve Bannon is a Crypto-Jew.




Who planned the trouble in Charlottesville?

Steve Bannon

, who is said to be Jewish, is Trump's chief strategist.

"Bannon believes there must be ... a cataclysmic conflict - to bring about the

new order

he desires."




Steven Bannon: Trump 'puppet master' believes America must be reborn through fire




Charlottesville will be followed by a reign of terror?

Bannon writes: 'the question of what the

new order

will be up to us.'




Steve Bannon

.



Bannon wants to see the triumph of the billionaire Jews?
Robert Mercer is the Jewish billionaire who
has been funding Steve Bannon
.
.
Donald Trump's
older brother Fred

(above)
was a member of Sigma Alpha Mu, a Jewish fraternity (above). Donald Trump's
brother Fred
said that his father, Fred Trump Sr., was the Jewish son of German immigrants.
The Kosher Nostra runs the Alt-Right; and the Left; and the CIA.
Mike Pompeo, boss of the CIA,
In the 2010 general election, Mike Pompeo received $80,000 in donations from
KochIndustries
and its employees.
[17]
Koch also gave money to Pompeo in 2012, 2014 and 2016.
.
Heather Heyer.
Heather Heyer, a 32-year-old resident of Charlottesville, Virginia, was allegedly run over and killed by
James Alex Fields Jr.
at the
Unite the Right
rally, on 12 August 2017.
Sandy Hook funeral of Dylan Hockley.
In the CIA's brainwashing programme, use is made of the colour purple.
MKULTRA - Monarch
Heather Heyer may well be a mind-controlled asset of the CIA?
Sandy Hook victim Grace Audrey McDonnell
Grace Audrey McDonnell's Mum Lynn:
"She just had a birthday in November when she turned 7 and ... she said, 'I want a purple cake...'"
Lauren Rousseaux
Sandy Hook substitute teacher, Lauren Rousseau:
"It helped that she still lived in her purple room in the sprawling, warmly decorated Victorian house she was born in ..."
.
Best video so far!
The Charlottesville attack was a 'false flag' attack.
The leaders of both sides in Charlottesville are working for the CIA and its friends.
BuzzFeed News reporter Blake Montgomery
:
"Most white supremacist and Nazi groups arrived armed like a paramilitary force ... They used militarized ... maneuvers ... It seemed that they had practiced for this."
Hunter Wallace, a far-right blogger at Occidental Dissent
:
"Violent antifa (anti-fascists) launched an attack on our group with mace, pepper spray, bricks, sticks and foul liquids. The police stood idly by on the sidelines."
Brennan Gilmore
The man who filmed the car attack in Charlottesville, Brennan Gilmore, 'has links to the CIA'.
The rich elite (Clinton and Trump) are using Operation Gladio tactics (
CIA SECRET ARMY
) to
maintain and solidify the political status quo
.
.
Is Israel trying to pressure certain 'moderates' in Trump's government?
Are Trump and Netanyahu still close friends?
Both Trump and Netanyahu have been reluctant to criticise the 'Nazis' in Charlottesville.
Both Trump and Netayahu rely on a policy of 'Divide and Rule'.
Both Trump and Netanyahu may be secretly happy with events in Charlottesville.
.
From left, Andrew Anglin, The Daily Stormer; Richard Spencer, The Alternative Right; Jared Taylor, American Renaissance; Matthew Heimbach; David Duke; Milo Yiannopoulos; and Steve Bannon. Most of the above are apparently Jewish. THE RIGHT STUFF.
Richard Spencer
organised the rally in
Charlottesville
.
Richard Spencer heads up the white nationalist National Policy Institute.
Spencer's mother is Sherry Dickenhorst, who is said to have Jewish ancestry.
On 12 August 2017, in Charlottesville in the USA, a 2010 Dodge Challenger accelerated into a crowd of people.
There is a suggestion that the attack was organised by the Deep State in order to 'Divide and Rule'.
The man driving the car is alleged to be James Fields.
Above, we see a different James Fields.
Above, we see Mayor Michael Signer, the Jewish mayor of Charlottesville.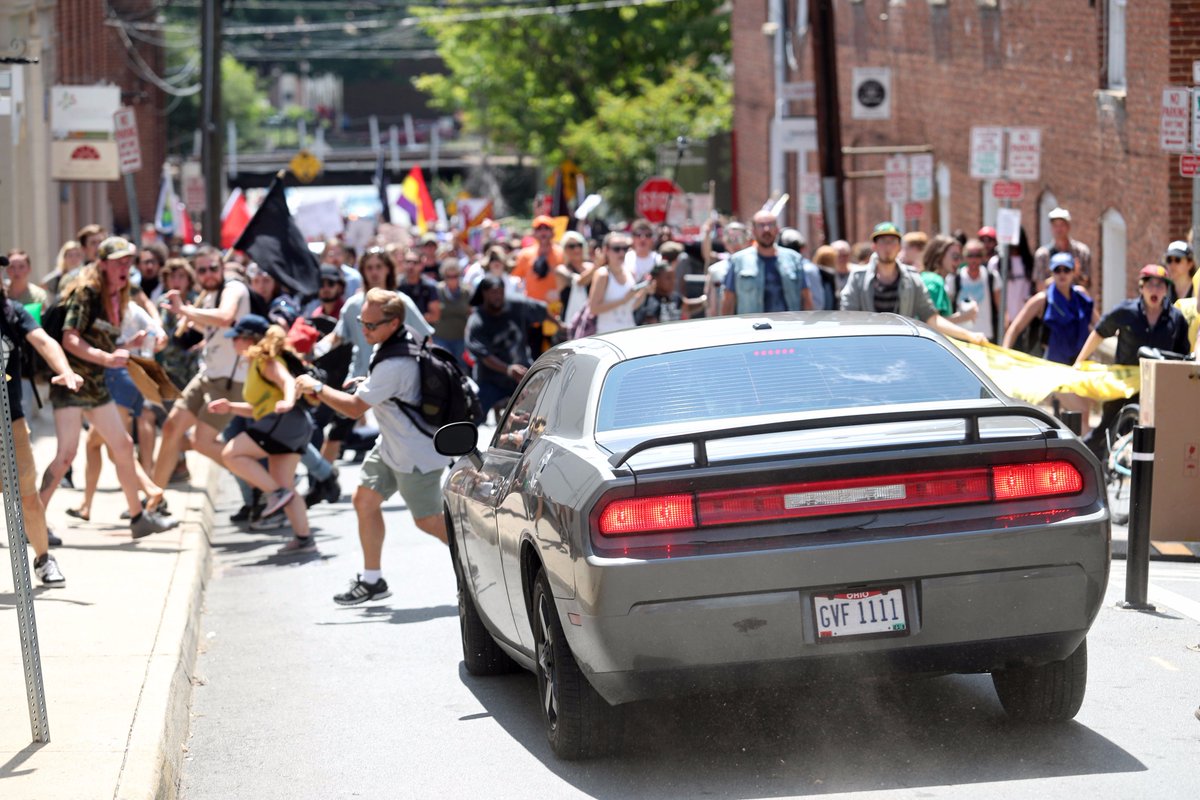 A vehicle ploughed into a crowd of protesters after events around UniteTheRight.
Above, we see the car in Charlottesville, in the USA.
A man was later arrested.
The 'patsy' is James Fields.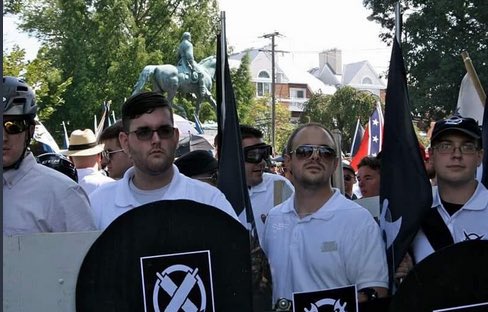 'James Alex Fields (second from left) was with the Vanguard America folks in
#Charlottesville.'
James Fields' mother
is Samantha Bloom.
In 2015, James Fields
was on active duty status
with the US Army
.
Samantha Bloom raised James Fields alone as a single mother after his father died.
Samantha is a paraplegic.
As a child, James was a quiet boy with few friends.


James Alex Fields, Jr. : 5 Fast Facts You Need to Know - Heavy.com
.
Who was driving that car?
'Driver has been arrested.' #Charlottesville
A 4chan user wrote:
...
The CIA's Operation Gladio is about getting people angry and scared and easy to manipulate.
.
Undercover Israeli soldiers
admitted
in 2005 to throwing stones at other Israeli soldiers so they could blame it on Palestinians.
Israeli police were
filmed
in 2015 dressing up as Arabs and throwing stones, then turning over Palestinian protesters to Israeli soldiers.
The Ever-Growing List of ADMITTED False Flag Attacks
Quebec police
admitted
that, in 2007, thugs carrying rocks to a peaceful protest were actually undercover Quebec police officers.
The former Italian
Prime Minister, President, and head of Secret Services
(Francesco Cossiga) advised the 2008 minister in charge of the police, on how to deal with protests from teachers and students:
"Withdraw the police from streets and universities, infiltrate the movement with provoking agents ready for anything and let them devastate shops, put fire to the cars and put cities to the sword for ten days.
"Then, strengthen by people's support, the sound of the sirens from ambulances will have to overwhelm that from the police and carabinieri [italian military police]. Law enforcement officers should pitilessly beat the shit out of protesters and send them all to the hospital. They should not arrest them since the courts would free them immediately, but they should beat them savagely, and they should beat savagely as well those teachers that incites them: not old professors, just the young school teachers."
An undercover officer
admitted
that he infiltrated environmental, leftwing and anti-fascist groups in 22 countries. Germany's federal police chief
admitted
that – while the undercover officer worked for the German police – he acted illegally during a G8 protest in Germany in 2007 and committed arson by setting fire during a subsequent demonstration in Berlin.
Denver police
admitted
that uniformed officers deployed in 2008 to an area outside the Democratic National Convention ended up getting into a melee with two undercover policemen. The uniformed officers didn't know the undercover officers were cops.
At the G20 protests in London in 2009, a British member of parliament
saw
plain clothes police officers attempting to incite the crowd to violence.
The Ever-Growing List of ADMITTED False Flag Attacks
~~
No way out
.
~~
Labels: Bannon, CHARLOTTESVILLE, CIA, conspiracy, Deep State, false flag, Gilmore, Gladio, Heyer, inside-job, JAMES FIELDS, Jewish, Mercer, Nazis, Netanyahu, patsy, purple, Richard Spencer, Sandy Hook, UNITE THE RIGHT