EXPLORE TALENT
Melissa Carone and Giuliani.
Melissa Carone was paid to make false allegations of ballot tampering?
Trump's Star Witness' Acting Profile

......ibtimes
Unknown commented -
'Many rising stars of the USA Republican party - including US
Congresswoman Lauren Boebert
- "got their start at t
he
'Explore Talent'
agency - run by an Israeli pornographer.
"'Explore Talent' is registered under the name of Amiram Moshe Shafrir, an Israel businessman ...
"Shafrir made his fortune in the 1990s through a highly lucrative phone sex service that Israeli criminals battled for ownership of ...
"Shafrif created 'Explore Talent' ...
Lauren Boebert - Explore Talent.
"It is clear that the conservative movement recruits women through his service.
"
The overnight transition of women from low-rent "models" on Explore Talent, to congresswomen, high-risk spies, and nationally renowned political personalities
leaves more questions than answers."
https://web.archive.org/web/20210105173225/www.exploretalent.com/contestants/gallery-contest-july-august-2011-98/lauren-boebert-gallery-98616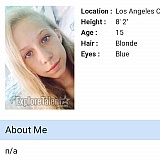 DID NOT GIVE PERMISSION TO USE MY CHILD'S NAME AND PHOTO!
How did explore talent get my child's picture & name? We do not consent! The profile is fake. We have never even been in USA. Intercontinental identity theft?

'They're prominent guests on Fox, they lead "grassroots" rallies, they write columns at The Blaze, they are keynote speakers at CPAC, a few were even used to blackmail perceived enemies of Israeli interests -- and they all got their start as actors and models at the same Israeli-owned talent agency.

'These up and coming conservative superstars appear to have had or currently still have active profiles up at shadowy Israeli-born pornographer Ami Shafrir's Explore Talent, National Justice can report.'
So far, National Justice has identified the following household names in the world of Republican Party politics as being actors or models featured for hire on the site in the last ten years:
1)
Candace Owens
-- who began producing professional conservative content months after launching her Explore Talent profile in 2017.
2) Congresswoman
Lauren Boebert
-- participated in the site's gallery contest in 2011, two years before opening up the "Shooters Grill" restaurant that brought her national fame and helped catapult her political career.
3)
Tomi Lahren
-- a familiar face throughout conservative media. She has previously worked at The Blaze and served on Donald Trump's PAC alongside Rudy Giuliani. She currently works as a contributor for Fox News.
4)
Mellissa Carone
-- Rudy Giuliani's star witness in his election fraud lawsuit last December. She is
currently running for office
in Michigan.
5)
Scott Presler
-- a homosexual conservative influencer, often spotted leading rallies in the run up to Trump's election. Presler spoke at CPAC 2020.
6)
Emma DiGiovine
-- the Fox News assistant who Jesse Waters
left his wife for
.
7)
Anna Khait
and
Tarah Price
-- Two women
hired by private intelligence operatives to seduce and blackmail
National Security Adviser Lt. Gen. H.R. McMaster after
Jewish mega donors Sheldon Adelson and Robert Mercer
complained to Trump that he wasn't sufficiently pro-Israel.
National Justice Investigates: Rising Republican Party Influencers Got Their Start At Talent Agency Run By Israeli Pornographer
Scott Presler - a homosexual conservative influencer, often spotted leading rallies in the run up to Trump's election. Presler
Explore Talents is registered under the name of
Amiram Moshe Shafrir
, an Israeli businessman.
'Shafrir and his wife ran pornography websites such as the defunct DreamFaktory.com, according to court documents obtained by National Justice.
'
Public records
show that lawsuits accused the Shafrirs of being involved in illegal wiretapping, the use of bribed police officers, and the alleged collection of blackmail material on American military officials who were secretly homosexual...
Ann Coulter.
Unknown commented on
"EXPLORE TALENT"
What is also interesting here, is the great number of appealing females selected as highly effective spokespersons for the right.
Many seem thrilled to hear a female voice presenting conservative and right-wing ideas, both in the USA and Europe.
In addition to those in the article, the below with photo links:
For years one of the biggest USA right-wing voices was Ann Coulter, helping create the aura around Trump
A leading right-wing US Congressperson now, is Marjorie Taylor Greene of Georgia.
In the US Democratic party, helping lead push-back against the party's left-wing, is openly bi-sexual, thigh-high-boots-wearing Kyrsten Sinema of conservative state Arizona.
In Italy, Giorgia Meloni heads the farther-right Brothers of Italy (ironic given the name), the party of 'God, Homeland and Family' not far from leading in recent polls there.
In France, Marine Le Pen has another chance to be President next year
Not only in Spain, but also worldwide, right-wing youth are electrified by openly Francoist age 18 Isabel Peralta, publicly giving fascist salutes.
As economic and 'covid' problems continue,
the right supports:
Leftist-leaning economics supporting *local* more native working class
But with anti-leftist willingness to defend 'tradition' that seems under attack.
A critique of conventional 'democracy' as troubled due to outside and oligarchic manipulation.
The image of supporting a strong middle class, versus a communist-type 'leveling'.
The memory that, classic 'fascists' did seem to support working families who were not politically dissident, arguably more so than 'socialists' and 'leftists' have done.
Do the 'populist right' and the 'populist left' both secretly work for the rich elite?
Labels: Amiram Shafrir, Candace Owens, Coulter, Israel, Lauren Boebert, Le Pen, Melissa Carone, Meloni, Peralta, Republican Party, Trump