ISRAEL, PALESTINE, GAZA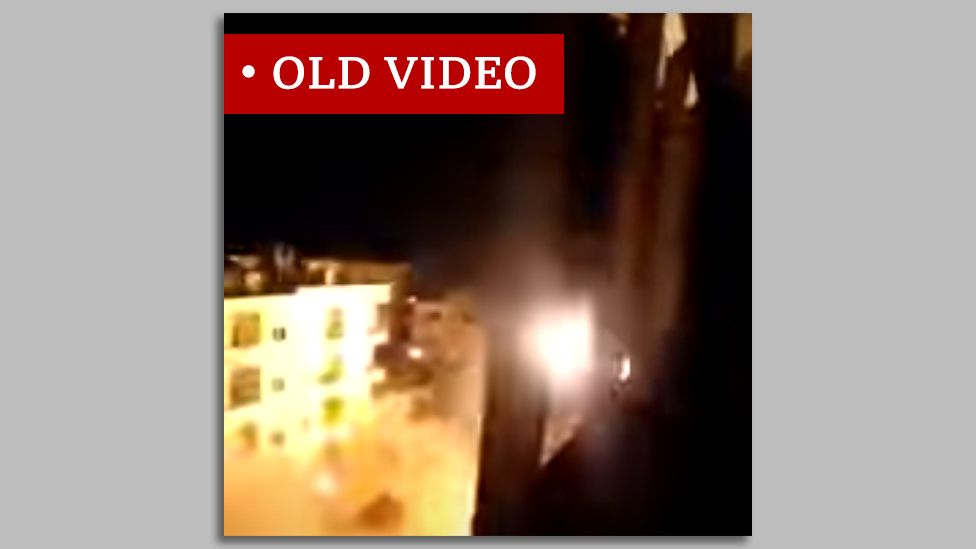 A spokesperson for Israeli Prime Minister Benjamin Netanyahu shared a video on Twitter which he claimed showed
Hamas firing rockets at Israel
"from populated areas".
"1/3 of these 250+ rockets fell inside the Gaza Strip, killing Palestinians," Ofir Gendelman tweeted.
But the video is old and the footage is from Syria, not Gaza.
Israel-Palestinian conflict: False and fake...
bbc.co.uk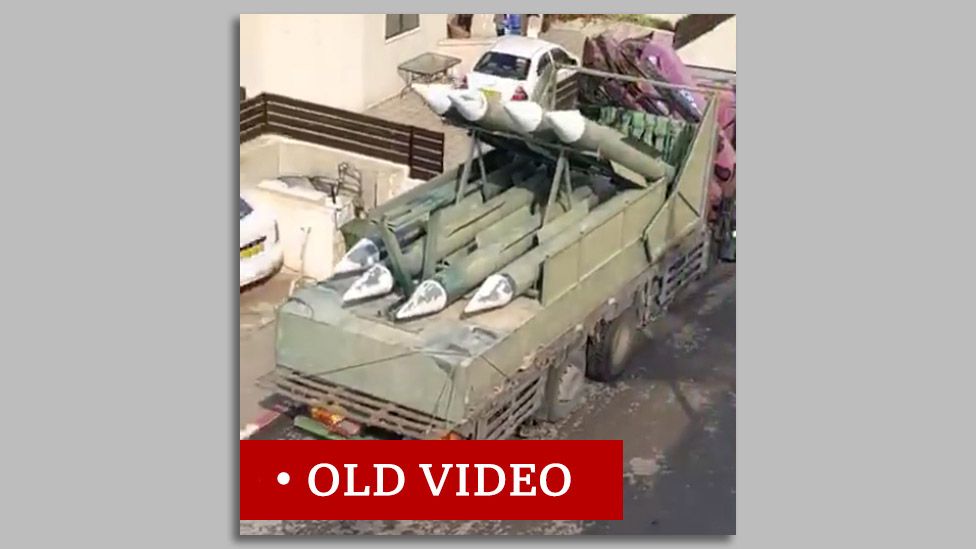 'One widely shared tweet claimed to show footage of Palestinian militant group Hamas moving truck-based missiles down a street in Gaza.
'However, we found that the video was
uploaded to Facebook on 25 November 2018
, with a caption saying
it was taken in a town in Israel
.'
Twitter Network Uses Fake Accounts to pr
omote Israel


nytimes.com
'The Israeli government posted a more than two-year-old video apparently from Syria, claiming it was from Gaza, in order to justify its ongoing bombing campaign that has
killed
dozens of Palestinians since Monday.'
Israel posts fake videos to justify Gaza slaughter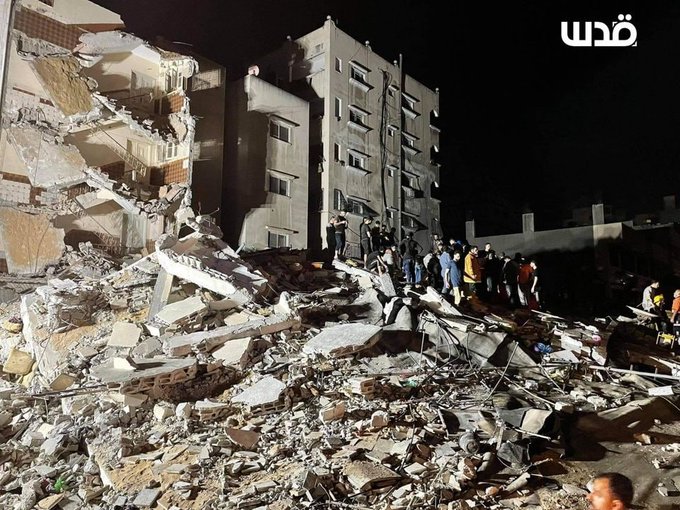 Quds News Network@QudsNen
·
16 May
"Israel" bombed all the streets leading to Shifa Hospital, the largest medical facility in Gaza.
'Ambulance vehicles cannot leave/enter the hospital while tens of civilians are buried alive under the rubbles.'
May 16, 2021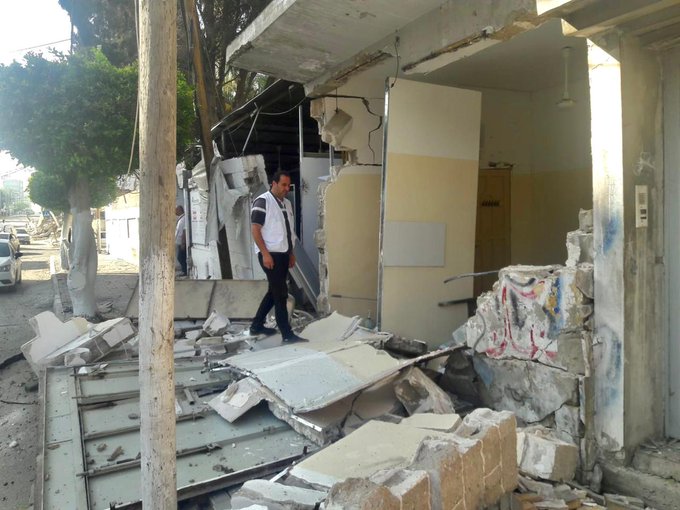 10:57 AM · May 16, 2021
Médecins Sans Frontières (MSF) is an international, independent, medical humanitarian organisation.
'Last night,
an MSF clinic in #Gaza where we provide trauma and burn treatment was damaged by Israeli aerial bombardment
, leaving a sterilization room unusable and a waiting area damaged.
'No one was injured in our clinic, but people were killed by the bombing.'
Israel kills children, doctors in horrific nighttime massacre
17 May 2021




'Zionist militias forced some 750,000 Palestinians from towns, villages and cities, robbing them of their homes and belongings in the process.
'This is remembered as the "Nakba" - Arabic for catastrophe.

'But the Nakba never ended.
'Since 1948, the people of Palestine have lost more than 85% of their land to Israel.'
Marvin Paice and Clifford Martin, the two british sergeants who were hanged in Palestine, in 1947, by the Jewish Irgun.
'The militarisation of the Israeli state has now confined them to a series of open-air prisons, in which the Israeli state routinely rehearses its cruel technologies of war - poisoning the soil, contaminating the water, and terrorising the people.'
'Israel's military is powered by $3.8 billion in annual grants from the US government.'
https://progressive.international/wire/2021-05-14-end-the-nakba-now/en
Leo Strauss.The 'religion' of the top Jews, top Islamists, top fascists and top mobsters is the religion of Leo Strauss.Leo Strauss, who died in 1973, believed that in order to control the ignorant masses, the elite should tell lies.
In 1947, Jews, working on behalf of '
Israel
'', attempted to BOMB THE BRITISH PARLIAMENT.
Hamas was created and supported by the Mossad and friends.
Jason Lee, Save the Children's Palestine country director, said
three Palestinian children have been injured every hour on average since the Israeli military offensive on Gaza began last week.
"Many of these children will bear the scars – the long-term physical disability but also the incredible toll on their mental health – for the rest of their lives," Lee told Al Jazeera.
Fifty-eight Palestinian children have been killed to date in the ongoing air strikes.
"It's absolutely horrific," Lee said.
'
Alexandria Ocasio-Cortez
scored a stunning upset primary victory over a top House Democrat in New York City.
'However, when it came out that she had denounced the Israeli government for its massacre of over 140 unarmed Palestinian protesters in Gaza, cries of "anti-Semite" soon appeared, and according to Google there are now over 180,000 such hits combining her name and that harsh accusatory term.'
Manchester boy suspended from school for 'racist abuse'
after shouting 'free Palestine' in class.
Shooting Fish in a Barrel: Israel bombs Palestinian Refugees from Israel in Gaza, 50% of them Children
JUAN COLE
The UK's chief of defence staff, General Sir Nick Carter, visits Israel in April 2019.
'The UK and Israeli militaries are "integrating their multi-domain capabilities in maritime, land, air, space, and cyber and electromagnetic".
source
'This follows recent visits to Israel by two UK chiefs of the defence staff, General Sir Nick
Carter
in 2019 and his predecessor.
'Military training is a key part of the deepening relationship between the two countries' armed forces.
'In 2011, British soldiers were
trained
in Israel in the use of drones that had been "field-tested on Palestinians" during the 2009 war in Gaza two years earlier.
'The RAF has stepped up its engagement with Israel in the past two years.'
dailymaverick.co.za
Gaza May 2021 - child killed by the Israelis.
Gaza May 2021 - child killed by the Israelis.
Gaza 16 May 2021 - child killed by the Israelis.
In Gaza, a baby has been pulled alive from under the rubble
after an Israeli air strike killed 10 family members.
The Grand Bengal Famine of 1942 'was engineered by Winston Churchill'.
Atrocities take place all over the world.
Above - a rocket of the type fired by Hamas.
There is no evidence of Hamas having rockets like those of the Israelis.
Hamas Fires Iranian-Made Cruise Missiles?
Unknown replied to a comment on "ISRAEL, PALESTINE, GAZA"
'The most heavily surveilled perimeter in the world, with state of the art ground penetrating radar. So how do they "sneak" in huge semi trucks with mounted ICBMs when they can ID a pedestrian's DNA from sattelites to target them? Not buying this nonsense.
'On other websites, hasbarian barbarians are putting it out that Iran sleeper cells are all over America ready to dump poisons in municipal water reservoirs. Looks like Israel ready to pull a national 911 again.'
Netanyahu
Palestinians.
On Saturday 15 May 2021, Israeli warplanes pounded the
Gaza Strip
, killing at least eight children in a refugee camp and flattening a high-rise building that housed the offices of international media outlets.
https://www.nbcnews.com/news/world/israel-airstrike-gaza-kills-8-children-u-s-envoy-arrives-n1267490
...
What does the Israeli leadershop hope to do to the Palestinians?
"Terrorize the civilian population, assuring maximal destruction of property and cultural resources…
"
The daily life of the Palestinians must be rendered unbearable: They should be locked up in cities and towns, prevented from exercising normal economic life, cut off from workplaces, schools and hospitals.
"This will encourage emigration and weaken the resistance to future expulsions"
https://www.globalresearch.ca/the-invasion-of-gaza-operation-cast-lead-part-of-a-broader-israeli-military-intelligence-agenda/11606
...
A 12-year-old Arab boy suffered burns to his face and was hospitalized in serious condition after an apparent arson attack on his home in Jaffa, adjacent to Tel Aviv, according to Sheba Hospital in Tel Hashomer.
https://www.nbcnews.com/news/world/israel-airstrike-gaza-kills-8-children-u-s-envoy-arrives-n1267490
...
http://www.renegadetribune.com/unit-8200-and-the-censoring-of-the-internet/
https://www.facebook.com/officialKEY48/photos
'In 1948 Zionist terrorist gangs and extremist groups ethnically cleansed and destroyed over 500 Palestinian towns and villages, renamed them, and repopulated those towns and villages with Jewish immigrants in order to create Israel.'
Keir Starmer, leader of the UK's Labour Party.
KEIR STARMER - LABOUR FRIENDS OF ISRAEL
Following a week of Israeli massacres of Palestinians in Gaza and the West Bank, Keir Starmer has appointed Labour Friends of Israel vice chair, Sharon Hodgson, as his new parliamentary aide.
https://en.wikipedia.org/wiki/Sharon_Hodgson

https://www.theguardian.com/politics/2021/may/14/keir-starmer-appoints-northern-mp-to-build-bridges-with-backbenchers
...
Gaza? 'There has not been a significant overreaction,' Biden said.
'Mohammed El-Kurd, a Palestinian writer and activist who has passionately spoken out against Israel's forced evictions, was forcibly removed from his Sheikh Jarrah neighborhood by Israeli forces on Wednesday - a day after he appeared on CNN and MSNBC and accused Israel of "ethnically cleansing" Palestinians in East Jerusalem.'
'Swedish pop sensation
Zara Larsson
is facing a backlash on social media after criticizing Israel's treatment of Palestians, amid a flare-up of violence in the region.
'The controversial Instagram post was later removed.

'In a message to her 6.3 million followers on the platform, the 23-year-old said the ongoing cross-border violence was a "crime" against Palestinians.'
What is the Nakba? Day of catastrophe for Palestinians, explained
'To Palestinians, the Nakba is a recurring disaster. At least
750,000 Palestinians
were displaced from their homes in 1948. A further 280,000 to 325,000 fled their homes in territories captured by Israel in 1967.
'Since then, Israel has
devised subtler means
of trying to force the Palestinians from their homes. One such tool was residency revocations. Between the start of Israel's occupation of East Jerusalem in 1967 and the end of 2016, Israel revoked the status of at least
14,595 Palestinians
in occupied East Jerusalem.
'A further 140,000 residents of East Jerusalem have been "silently transferred" from the city, when the construction of the
separation wall
started in 2002, blocking access to the rest of the city. Almost 300,000 Palestinians in East Jerusalem hold permanent residence issued by the Israeli interior ministry.'
https://www.richardsilverstein.com/2021/05/11/breaking-hamas-fires-
iranian-made-cruise-missiles
-for-first-time-three-israelis-killed/
Israeli military draws up plan for ground invasion of Gaza
On 13 May 2021, Israeli fighter jets attacked high-rise buildings and other targets in the Gaza Strip.
Since the Israeli offensive began, Gaza's health ministry says at least 83 people, including 17 children, have been killed.
Israelis 'lynch' a man in Tel Aviv.
Unknown comments -
Live TV shows an Israeli mob attack a motorist ...
"Late on Wednesday a mob of far-right Israelis dragged a man they thought was an Arab from his car and beat him until he lay on the ground motionless and bloodied ...
"Footage of the attack in Bat Yam, a Tel Aviv suburb, was broadcast live on television but police and emergency services did not arrive on the scene until 15 minutes later ...
"Elsewhere in Bat Yam, a group of black-clad Israelis smashed the windows of an Arab-owned ice-cream shop and ultranationalists could be seen chanting: 'Death to Arabs!' ...
"In the northern city of Tiberias, video uploaded to social media appeared to show flag-waving Israelis attacking a car ...
"Arab citizens of Israel have held mass protests across the country over Israel's policing of a flashpoint holy site in Jerusalem and plans to evict dozens of Palestinian families in the city ...
"Adding to the tensions are increasingly powerful far-right groups in Israel that won seats in March elections and are allied with Netanyahu."
https://www.theguardian.com/world/2021/may/13/live-tv-shows-israeli-mob-lynch-motorist-in-tel-aviv-suburb
Gaza.

Unknown comments -

Powerful feed on the Gaza-Israel battles from Pakistani analyst Zaid Hamid ... remarkably enough still on Twitter, with many videos and photos.
https://twitter.com/zaidzamanhamid?lang=en
Hamid is asking Turkey, Iran and Pakistan to create a joint force to liberate Palestine.
"Israeli police have lost control in many cities.... There are ongoing street battles between Jews and Muslims.... Israeli army has been called in to take control..... Palestinians are snatching guns from the occupation forces and fighting back... Its a do or die situation now.."
https://twitter.com/ZaidZamanHamid/status/1392409595344302086 (Retweeting AzaaneMomin who shows video said to be of rocket-launching vehicles rolling through Gaza, supplied by Iran)
...
Tourism minister Orit Farkash-Hacohen says Israel wants to boost tourism by 'taking advantage of the fact that Israel is a safe country'.
"Incredible that Iran has been able to deliver this equipment in the beseiged Gaza It takes some logistics & secrecy.. And even more incredible is that the entire Palestinian population is willing to take the losses to fight the Jewish occupation forces"
https://twitter.com/ZaidZamanHamid/status/1392529455118229510 (with video of city on fire)
"There is a general uprising of the Muslims against the occupation and fierce clashes are going on between the Jews and Muslims in almost all Israeli cities where they have mixed population... Israelis have lost control in many cities"
https://twitter.com/ZaidZamanHamid/status/1392408413464932353
...
"Haniyeh & Hamas Leadership assured the Arab mediators that they had prepared for a long war and had no confidence in the occupier and did not use a tenth of their weapons, and the concealment of the sort of weapons they're planning to use is greater that what's used so far"
https://twitter.com/ZaidZamanHamid/status/1392392729334796290
"Netanyahu rushed to Cairo and Doha, demanding intervention, rescue, and mediation for a cease-fire. Resistance refused and responded by firing a thousand rockets at Tel Aviv, Beersheba, Haifa, and Jaffa last night"
https://twitter.com/ZaidZamanHamid/status/1392392407417856000
"Zionists' only choice left is to return to Europe on the same ships that brought them to Palestine"
https://twitter.com/ZaidZamanHamid/status/1392479023352139777
It has always been a 'One State Solution'. A Palestinian state. Now they're starting to realize it. What's happening today is shaking the core of their beliefs".
https://www.jpost.com/arab-israeli-conflict/the-riots-across-israel-fuel-arab-media-one-state-solution-supporters-analysis-667911
https://twitter.com/ZaidZamanHamid/status/1392387159852736515
...
Israel's Aggressive Actions Are Indefensible
'The self-proclaimed Jewish State sought to evict Palestinians from the Sheikh Jarrah neighborhood in East Jerusalem, which has been illegally occupied by "Israel" since 1967, in order to create new colonial settlements there.
'"Israel" also prohibited the Palestinians from gathering near the Damascus Gate where they often socialize during the Muslim holy month of Ramadan.
'Furthermore, "Israel" restricted the number of worshippers at the Al-Aqsa Mosque, one of the holiest sites in Islam.
'These decisions prompted the Palestinians to protest, which some of them also did from within the Al-Aqsa Mosque by throwing bottles and stones at the "Israeli" security services, which in turn resulted in the latter attacking that place of worship with rubber bullets and stun grenades.
'The hybrid political-military movement Hamas subsequently issued an ultimatum to "Israel" to withdraw its security forces from Al-Aqsa Mosque and the Sheikh Jarrah neighborhood as well as release all of the Palestinians who were recently detained.
'This warning wasn't heeded, hence why Hamas fired rockets from Gaza into "Israel", triggering retaliatory airstrikes...
'A few speculate that Prime Minister Benjamin Netanyahu intentionally fanned the flames of violence in order to manufacture the violent scenario that's since transpired so as to appear as the only political figure capable of defending "Israel" from what his government describes as so-called "terrorist attacks" by the Palestinians.
'This is taking place against the backdrop of his recent failure to form a government.'
Israel's Aggressive Actions Are Indefensible
Labels: Al-Aqsa, El-Kurd, Gaza, Hamas, Israel, Nabka, Netanyahu, rockets, Sheikh Jarah, tourism, Zaid Hamid, Zara Larsson