CORONAVIRUS; CRIMINAL CONSPIRACY; TRUMP
Dr. Reiner Fuellmich is one of four members of the German Corona Investigative Committee. In this video he is describing how there is no legal doubt about the possibility of a class action lawsuit against those responsible for the lockdowns. From the local level all the way to the WHO and many pharma companies in between.
'Inhumane, degrading, inexplicable': Britain's Covid care home policies 'violated the fundamental human rights of vulnerable elderly residents', Amnesty International report finds ...
Five men from Doncaster were due to carry out work on the Manx Electric Railway.
.
In hospital, Trump coughs nonstop and is covered in sweat?
Americans have traditionally rallied behind a sick President.
After Ronald Reagan was shot in 1981, he won the next election in a landslide.

President Franklin Delano Roosevelt, a polio sufferer confined to a wheelchair, served four terms in office.
If the source is CNN or the BBC or the government it is fake news?
Eileen De Villa is Medical Officer Of Health City Of Toronto.
Eileen De Villa's salary went up 200% in 3 years
$309,594.73 paid in 2019.
Believing that Trump is not faking it.
Michigan Supreme Court Strikes Down Gov. Whitmer's Nanny-State Edicts
"Nicole Junkermann and Daniel Korski, in 2017 and 2018, both began to invest in and focus on mass surveillance technology and future healthcare-related tech with great intensity."
Is the Kosher Nostra linked to the Scamdemic?
....

In March, Donald Trump proclaimed that "we are at war with an invisible enemy."
Henry Makow@HenryMakow
·
1h
Donald Trump helps to keep the scam alive.
'

Trump never called the virus a "hoax"
- contrary to several viral social media posts.
'The confusion may have stemmed from
rambling remarks back in February
, when
Trump accused Democrats of "politicising the coronavirus" - then talked about his impeachment, calling it a "hoax" and criticism of his handling of Covid-19 "their new hoax."'
Trump
did not call Covid-19 a 'hoax'
...
dognamedblue@dognamedblue
·
13h
"The Vaccine Should be Tested on Politicians First. If They Survive, the Vaccine Is Safe. If They Don't, Then the Country Is Safe."
Henry Makow@HenryMakow
·
12h
25,000 Catholics including cardinals, bishops, doctors, lawyers say the State of Emergency for COVID is a fraud
Gallup's
annual poll
measuring the public trust in mass media found a record high number of those who have no trust at all.
Six in ten of those polled have have "not very much" trust (27 percent) in the media, while those who have "none at all" hit a record 33 percent.
...
Unknown commented -
Donald Trump tested positive for covid 33 days out from the election?
I don't understand the numbers game, all I know is that 33 is the Freemasons number.
...
'The UK's Ministry of Defence turned large parts of the country into a giant laboratory to conduct a series of secret germ warfare tests on the public - between 1940 and 1979.
'Many of these tests involved releasing potentially dangerous chemicals and micro-organisms over vast swaths of the population without the public being told.'
Millions were in germ war tests
We have the whole thing! The notorious 2011 article on Bill ...
silview.media ›
...
"Literature reviews have confirmed that wearing a mask during surgery has no impact whatsoever on wound infection rates during clean surgery. A recent 2014 report states categorically that no clinical trials have ever shown that wearing a mask prevents contamination of surgical sites."
"With half the US population reportedly unwilling to submit to an experimental Covid-19 shot, a new scientific paper has shed light on how state health authorities might enforce compliance with vaccine mandates."
..
Fake.
...
"COVID-19 is a label, a classification, a designation, a figment of the imagination - a complete and utter fraud.
"There is no reason to wear a mask. There is no reason to do any kind of social distancing. There was never any reason to lock down the economy.
"There is no deadly virus - only inaccurate tests and corrupt politicians controlled by global elitists who want to rob and exploit us. Face it folks, you've been had, hoodwinked, bamboozled, lied to, conned, duped."
The Pandemic That Never Was
Unknown commented -
Northerntruthseeker
blogger from Canada has been censored/banned. Dark days..... I know he reads this site, hopefully he's okay.

Andy Preston is fighting back against the latest tough draconian restrictions - good on him.


...
PCR 'Covid test' inventor Kary Mullis: 'With PCR if you do it well you can find almost anything in anybody.'
This is the 'test' that is being used to produce the 'cases' to justify fascistic lockdown by finding anything in anybody.
Herla
nd
Report:
"Roughly 60 military officials - including at least four generals - are involved in the leadership of Operation Warp Speed ...
"Operation Warp Speed's central goal is to develop, produce, and distribute 300 million doses of a coronavirus vaccine by January - and the military is intimately involved, according to Paul Mango, HHS' deputy chief of staff for policy."
"China in double digit growth while the West is in double digit Corona Recession: Recovery from Covid-19 seems to be distant in the whole world except for China.
"While China has a double digit growth, the West is in double digit recession."
"
Amnesty International was created by British Intelligence
for intelligence gathering, to carry out social engineering of targeted nations critical of the British Empire.
"Amnesty International was involved in not only the cover-up of torture and regime change by British agents but also in sparking a war."

There is a belief that a very powerful CABAL is the brains behind the SCAMDEMIC.
FORMER TOP LEVEL FACEBOOK EXECUTIVE CLAIMS "150 MEN RULE THE WORLD" & EVERYONE ELSE IS A 'PUPPET'
Chamath Palihapitiya
was Facebook's vice president for user growth.
Near-billionaire Chamath Palihapitiya spoke with unusual frankness to, in his words, the "leaders of the future" at Stanford Graduate School of Business in November 2017.
Palihapitiya: "
there are about 150 people who run the world
– the politicians are all f**king puppets.
"There are 150, and they're all men, who run the world.
They control most of the important assets and the money flows – they are not the tech entrepreneurs.
"When you get behind the curtain and see how that world works what you realise is that it's unfairly set up for them and their progeny."
Palihapitiya doesn't mention who the 150 are, apart from the
Kochs
– who get a mention for their malign but impressive (according to Palihapitiya) ability to insert their views into the minds of others.
150 people run the world and politicians are puppets
Jeffrey Epstein's Little Black Book
contains the names of people who could be described as being a mixture of the
Feudal Elite, Robber Barons, Zionists, Nazis ...
Among the better known names:
Evelyn de Rothschild
David Rockefeller
Edward Koch
The Proud Boys Are Now Roger Stone's Personal Army

thedailybeast.com
Katelyn Polantz@kpolantz
·
14h
"To sum up: Proud Boys and Roger Stone are closely linked. Socially, and in efforts to spread pro-Trump political propaganda. It's undeniable, well-documented, publicly observable."
Now he's gone shopping without wearing a mask. He doesn't think the rules apply to him.
Israel passes law to limit protests during 'virus emergency'
...
Coronavirus: Ministers treating Parliament with 'contempt,' says Speaker Hoyle

The PM is spared a Commons revolt in a vote later - but is warned not to treat Parliament "with contempt".
...
UK witnessing a military-led coup
100 military officers take to streets of Birmingham to test families in Covid hotspots
US Occupation of Syria Now Official
"It has long been assessed that the reason behind US simultaneous backing of ISIS and the Kurdish forces is for the purpose of using ISIS as an excuse and threat to be defeated, only to then carve out a US occupation zone and set up military bases under the pretext of forming an independent Kurdish state."
Netanyahu ordered a second lockdown in Israel.
"Many suspect that political self-preservation is one hidden motive for the draconian shutdown.
"Netanyahu is going on trial for three counts of criminal corruption in January."
According to the
International Labour Organization
-
"1.6 billion informal economy workers have suffered massive damage to their capacity to earn a living.
"This is due to lockdown measures and/or because they work in the hardest-hit sectors."
According to the
World Food Programme
, a quarter of a billion additional people will be pushed to hunger and 300,000 could die every day.
Bill Gates' Global Agenda and How We Can Stop the Machine and Defend Our Humanity
...
"A British Conservative MP has urged the government to draft in the armed forces for the rollout of a mass coronavirus vaccination program, which would include mandatory certificates that allow people to travel internationally.
"Speaking in the House of Commons on Monday night, Tobias Ellwood argued that the mass vaccination scheme is a challenge of the scale and complexity of "the D-day landings and Dunkirk."
"The MP for Bournemouth East told the parliament that a vaccine could be six months away and urged Prime Minister Boris Johnson to use the armed forces to oversee the process of delivering it to the UK population."
The UK military has crucified some of its own soldiers.
...
A care home nurse who claimed the pandemic is a hoax while protesting in her uniform against lockdown reveals

she's been FIRED

from her job but still insists she's seen 'no evidence' of a killer virus.
Care home nurse sacked for claiming pandemic is a hoax ...
"Covid-19 patients are currently occupying fewer than 2 per cent of all hospital beds in England, official data suggests.

"Deaths of people in their own homes from causes other than the virus continued to run at far above average rates.
"There were 2,962 such fatalities during the week, 711 more than the average for the time of year."
Thousands of ventilators bought at the height of the Covid crisis are sitting in warehouses due to a lack of demand
What causes

Long Covid

or Chronic Fatigue syndrome or ME?
"The trigger may have been an immunisation.
"Common viral triggers include glandular fever or Epstein-Barr virus (EBV).
Other herpes viruses such as herpes simplex, VZV (causes chickenpox/shingles), HHV-6 and CMV, may sometimes trigger M.E., as can viral meningitis or labyrinthitis, commonly caused by enteroviruses, gastroenteritis, Hepatitis A, B and C infection, and in Australia, Ross River virus.
Non-viral triggers include toxoplasma, brucella, salmonella, tuberculosis, Q fever, and Lyme disease.
However, there is no clear evidence that M.E. is a form of persistent, chronic infection – it may be a consequence of infection.
The trigger may have been an immunisation, given perhaps when they were already unwell, or a physical trauma, such as a road accident, operation, radiotherapy or chemotherapy, or whilst rare, it is suspected that a very few cases may be triggered by certain toxic
substances."
What does M.E. feel like? | Action for ME
Keep your kids away from MPs?
"You won't serve us, so we won't serve you"
Opposition to the Government's draconian measures is growing by the day.
#KBF
The UN has just recently admitted that new cases of infantile paralysis or polio have resulted in Africa from an oral polio vaccine developed with strong support from the Bill and Melinda Gates Foundation.
It mirrors what happened in the USA in the 1950s.
Gates Vaccine Spreads Polio Across Africa


....



Henry Makow@HenryMakow·12h

The Tesla CEO decried the nationwide lockdown as a "no-win situation" that has "diminished my faith in humanity."

"Everybody dies," quipped Musk. - nypost.com


Peter Hitchens@ClarkeMicah

MPs are starting to *complain* about the letters they are getting from an exasperated public.
Please keep writing.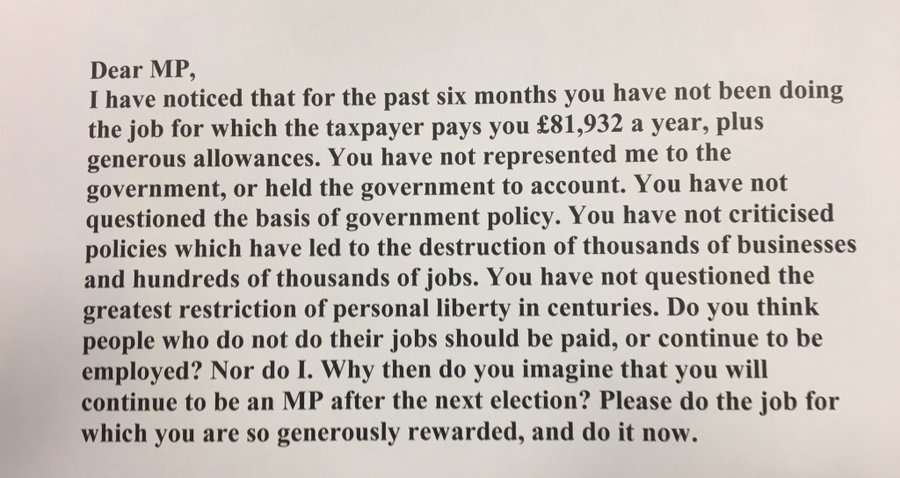 Henry Makow@HenryMakow·18h

Mike Adams- Latest CDC data: coronavirus poses virtually no death risk whatsoever for people under the age of 50; and only 5% of the very aged die.
Scam warning



'Good afternoon I'm calling from the NHS track and trace service. According to our system, you are likely to have been in close proximity to someone who has tested positive for COVID-19.
'This means that you now need to self-isolate for 7 days and take a COVID-19 test.'

'I just need to take a payment card so that we can finalize this and send the kit to you.'


'There is a one-off fee of £50 for the kit and test results. Could you read off the long card number for me, please, when you're ready.'

'Can you give me the card number please - this is very important, and there are penalties for not complying.'
Labels: cabal, China, Gates, Long Covid, military, Musk, polio, Proud Boys, scam, statistics, tests