MI6 BOSS RICHARD MOORE; SKRIPALS; IRA; KGB
Richard Moore (RIGHT), boss of MI6.
The new boss of the UK spy service MI6, Richard Moore, told a Turkish newspaper -
'My grandfather fought against the British Government in the separatist Irish Republican Army between 1916 and 1922.
'He received a medal from the Irish president.'
'I am of Irish origin.'
Moore said his grandfather Jack Buckley joined the IRA in Cork in 1916.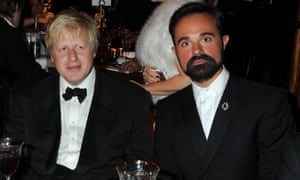 Boris Johnson and his very close friend Evgeny Lebedev.
Is the Boris Johnson government the enemy of Britain?
Jewish-Russian billionaire Evgeny Lebedev, son of a former KGB spy, has been nominated for a peerage (House of Lords)
Lebedev held a party in Italy
attended by Boris Johnson when he was
foreign
secretary
.
Is Jewish oligarch
Evgeny Lebedev
similar to
Jeffrey Epstein
?
Evgeny Lebedev's Italian Villa has Bunga Bunga parties.
Johnson headed to Lebedev's London family home in the aftermath of his 2019 election victory.
"Boris Johnson's father, Stanley, has been writing books promoting depopulation for almost 50 years."
Meet Prime Minister Boorish Johnson: A Sistema-Made Man ...
Stanley Johnson was in MI6 and has been linked to Ghislaine Maxwell.
BORIS JOHNSON, JEFFREY EPSTEIN, EVGENY LEBEDEV, GH...
Sir Mark Sedwill.
Sergei Skripal reportedly fell ill in Salisbury, in the UK, on 4 March 2018. "On the 1st of May, the UK's National Security Adviser Sir Mark Sedwill told MPs that the agencies he oversaw - MI6, MI5 and GCHQ - had no information on who was responsible for the attack on Sergei Skripal and his daughter.
John Helmer
, Moscow journalist,
@bears_with
,
links the appointment of Richard Moore as boss of MI6 with the Skripal-Novichok event.
MI6 CHIEF
The Novichok incident has led to the fall of Sir Alex Younger, boss of MI6, and the fall of Sir Mark Sedwill, former top civil servant.
Both Younger and Sedwill are said to be strongly anti-Russia.
Sergei Skripal planned to return to Russia, 'escaping with a treasure trove of secrets of British chemical warfare preparations at Porton Down, plus fresh MI6 identities and operations.'
Instead, Skripal and his daughter Yulia Skripal, 'were paralysed by a British nerve agent, and then confined, first in hospital and at a secret location ever since.
According to Helmer
-
'Prime Minister Boris Johnson and his chief advisor Dominic Cummings have now forced Sedwill and Younger into retirement.
Richard Moore, who is to be boss of MI6, 'has recorded his endorsement of Erdogan's policies, including his Syrian military operations, in his
Twitter feed
.'
Ken McCallum has taken over from Andrew Parker as the boss of MI5, the UK's domestic security service.
Richard Moore and his wife.
In 2007, he attended the Stanford Executive Programme.
[1]
[3]
Moore was educated at St George's College in Surrey - a Roman Catholic school - before studying philosophy, politics and economics at Oxford University.
In the Foreign Office Moore became Director for Globalisation (2010–2012).
[1]
[3]
Moore was born in Libya and is married with two children.
~~
Labels: Globalisation, IRA, Kennedy scholarship, Lebedev, Libya, MI6, Novichok, Richard Moore, Sedwill, SKRIPAL