JANNER, DAVID STEEL, UNIVERSITY OF BUCKINGHAM, STOWE,
Greville Janner (right)
Greville Janner is linked to the top people.
Greville Janners' connections
Greville Janner's family are trying to defend his reputaion.



JANNER'S REPUTATION

- Aangirfan
Uri Geller, Michael Jackson, David Blaine, Greville Janner.

JANNER DISAPPEARED - Aangirfan
GREVILLE JANNER - aangirfan
JR@JamesRusbridger
UNIVERSITY OF BUCKINGHAM:
4 miles to Stowe School & the Wallersteiners
24 miles to Oxford & the Maxwells' pals, incl Emmy Tayler
1 mile to John Bercow's house
17 miles to Jacob Rothschild's Waddesdon Manor
Maxwell held the constituency 1964-1970
Bercow held it 1997-2019.
UNIVERSITY OF BUCKINGHAM
Patron: Eranda Foundation-Evelyn de Rothschild
Partnership with Ghislaine Maxwell's friend Nicholas Coleridge
Visiting Prof of Humanities: Simon Sebag Montefiore
UoB awarded honorary degrees to Lady Manningham-Buller & Lord Bramall at Fishmongers Hall

University of Buckingham: Honorary Graduates
➊Lord Steel
➋Lord Bramall
➌Sir Rhodes Boyson
➍Dame Butler-Sloss
➎Lady Manningham-Buller
➏John Bercow
➐Lord Dannatt
➑Lady Kennedy
➒Lord Lawson
➓ Dame Duffield
➊➊Lord Carrington

Dame Alun Roberts@ciabaudo
DAVID STEEL - So what power did Cyril Smith wield over David Steel? Do earlier publications linking Steel to Ian Campbell Dunn, a founder member of PIE, or Steel's criticism of Geoffrey Dickens for bringing the paedophile Peter Hayman into disrepute shed light on the issue?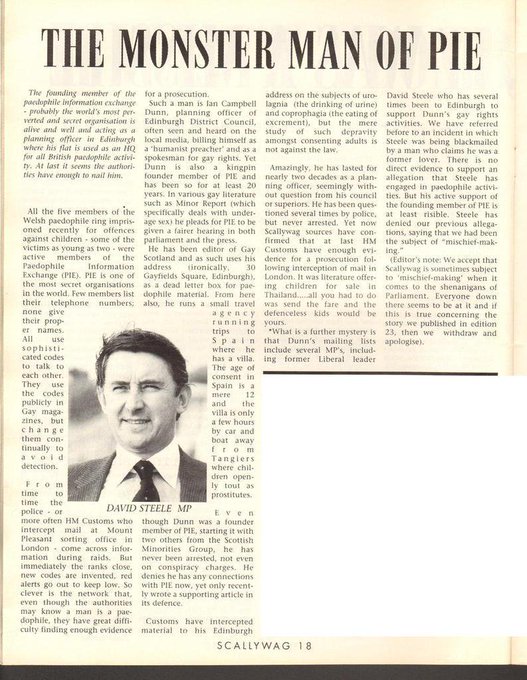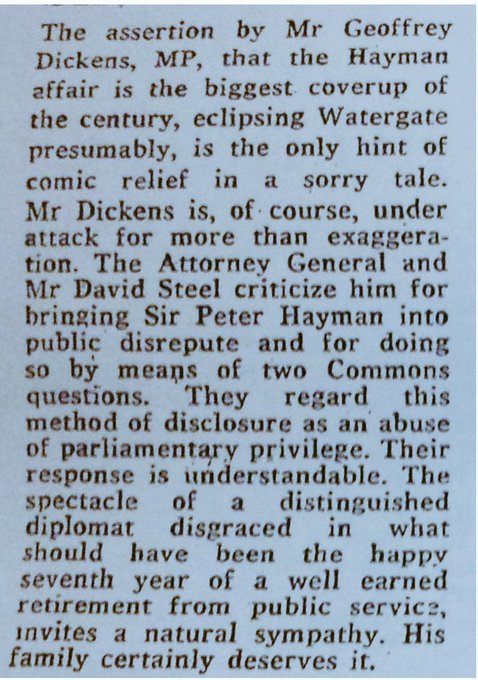 Show this thread
Anonymous19 February 2020 at 06:23
LORD DAVID STEEL
Scallywag reported in 1994 that David Steel was living in a flat in the Dolphin Square complex in Pimlico at the time a paedophile network was operating there.
(Steel was renting a flat in Dolphin Square in 1983, the Sunday Times reported. He was still a resident of Dolphin Square in 1997 according to the Independent, which identified Steel as a "long-term tenant").
Derek Laud, an alleged child abuser, was a "frequent" visitor to David Steel's flat in or about 1994, according to Scallywag.
Throughout Steel's career at Westminster he was a "weekend husband" in his wife's words. Similarly, the Sunday Times described Steel as "largely an absentee father and husband,
returning home usually for only one or two nights at the weekend".
Scallywag did not directly accuse Steel of participating in child sexual abuse, but a source quoted by Scallywag strongly implied that Mr Steel had sexual relations with male minors under the age of consent who came, or were supplied, to his Dolphin Square flat (the source refers to "young boys" and "underage boys").
David Steel sometimes shared his Dolphin Square flat with his adopted son William Steel ("Billy") - a theatre student at the time, and more recently a movie director living in Highgate, near Hampstead.
William, unlike his siblings who apparently were not adopted, has rarely been spoken of by Lord Steel in press interviews, and a contributor to The Tap Blog says she knows that the young Billy was sexually abused by his father. Whether this is true, I don't know.
In 1981, David Steel strongly objected to Geoffrey Dickens MP naming the disgraced paedophile diplomat Peter Hayman in Parliament through an order paper. Steel accused Dickens of setting a "very dubious precedent".
LORD STEEL WITH ANOTHER LIBERAL DEMOCRAT: THE BBC 1970s-1980s CHILDREN'S STAR FLOELLA BENJAMIN, WHO HAS ALSO BEEN PHOTOGRAPHED WITH GHISLAINE MAXWELL:
https://twitter.com/JamesRusbridger/status/1157038074439917580?s=20
https://www.dailymail.co.uk/news/article-8018573/Liberal-Democrats-expel-ex-leader-David-Steel.html
Labels: Boris Johnson, David Steel, Janner, Michael Jackson, Stowe, UNIVERSITY OF BUCKINGHAM, Uri Geller