LUNCH WITH MULHOLLAND; LOCKERBIE BOMBING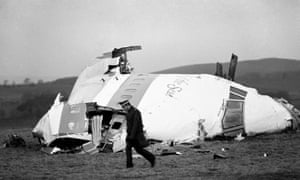 1988 - PanAm 103
I am having lunch with Scotland's chief prosecutor,
lord advocate
Frank John F. Mulholland.
We meet at the María Eva Nicola Sturgeon Duarte Perón restaurant in Edinburgh.
Mulholland says that there are two new suspects in the
LOCKERBIE
bombing and I am eager to hear all about this.
We order Ballottine of Fois Gras with chips, Poached Fig and Almond Milk with chips, Marinated Haggis with chips, Rhubarb Crowdie and Fennel Granola with deep fried Mars bar and chips.
So, who are the two new suspects?
Will they be Abu Nidal, who was an agent of the USA and Israel, and Marwan Khreesat, who was a Jordanian intelligence agent with links to the CIA?
"Well," says Frank, "the additional suspects are Bashar Al-Assad and Vladimir Putin!"
Continued on page 43.
~~
Labels: Lockerbie, Mulholland, PanAm 103