TERROR - TO MIND CONTROL THE PUBLIC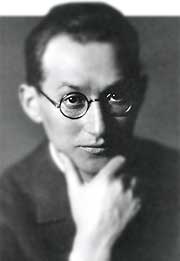 Kurt Lewin
The Tavistock Institute's
Kurt Lewin

(1890 - 1947)
believed in using 'terror' to mind-control the public.
henrymakow.com
Kurt Lewin was a Jewish psychologist,
In the book "Mind Control World Control" (1997) Jim Keith writes:
"Lewin is credited with much of the original Tavistock research into mass brainwashing - applying the results of repeated trauma and torture [of individuals] in mind control to society at large.

"If terror can be induced on a widespread basis into a society, Lewin has stated, then society reverts to a tabula rasa, a blank slate, a situation where control can easily be instituted from an external point.

"Put another way: By the creation of controlled chaos, the populace can be brought to the point where it willingly submits to greater control."
Jim Keith cites a Tavistock researcher
Dr. William Sargent
author of "Battle for the Mind: A Physiology of Conversion and Brain-Washing" (1957):
"Various types of beliefs can be implanted after brain function has been sufficiently disturbed by ...deliberately induced fear, anger or excitement."
CIA admits it carried out secret psychic experiments with Uri Geller .
Henry Makow
writes:

"JFK could have been disposed of in more humane ways. (He had many health problems.)
Sandy Hook
Sandy Hook
was reportedly part of the CIA's
Strategy of Tension
- designed to get people scared, so they will continue to support the rich right-wing elite.
Toulouse school shooting 2012.
You are supposed to be scared of such things as -
Railway stations (
Bologna massacre
1980).
Supermarkets (
Brabant Massacres
in Belgium 1980s).
Tall buildings (9 11 2001).
Public transport (London Bombings 2005).
Underwear and flying (Underwear Bomber 2009).
Elliot Rodger (2014 Isla Vista killings) and his father Peter Rodger at the premiere of The Hunger Games. Elliot Rodger is the son of The Hunger Games assistant director Peter Rodger. Suzanne Collins, who wrote The Hunger Games, resides in Sandy Hook, Connecticut. Elliot Rodger's father Peter Rodger is a friend of Hugh Jackman, the star of Bryan Singer's X-Men.
You are supposed to be scared of such things as:
Cinemas (
2012 Aurora shooting
).
Marathons (Boston Bombing 2013).
Churches (Charleston shooting 2015).
Theatres (Paris Attacks 2015)
And elementary schools (Sandy Hook 2012).
Rolf Mengele and Josef Mengele.
Joseph Mengele
carried out torture experiments to bring about mind control.



Josef Mengele, Dr. Green, and the american mind control

.
There is a belief that Josef Mengele, the Nazi, was Jewish.
According to Marc Berkowitz, a survivor of Auschwitz, Josef Mengele had a certain love for the Jewish people, was very knowledgeable about Judaism and even spoke Yiddish.
The Life and Crimes of a Nazi Doctor | PEOPLE.com
"Documents and interviews reveal that contrary to popular belief, for most of the time that Mengele was in hiding, the Mossad wasn't looking for him at all."
Why Did Israel Let Mengele Go? - The New York Times
Mengele went to work for the mind-controllers in the USA.
Joseph Mengele(Dr Green)
Labels: 9 11, Jewish, JFK, Kurt Lewin, Mengele, Sandy Hook, Sargent, Strategy-of-Tension, Tavistock, underwear